Debate Team Argues to Bronze Medal in Jakarta
Hang on for a minute...we're trying to find some more stories you might like.
IASAS Debate Recap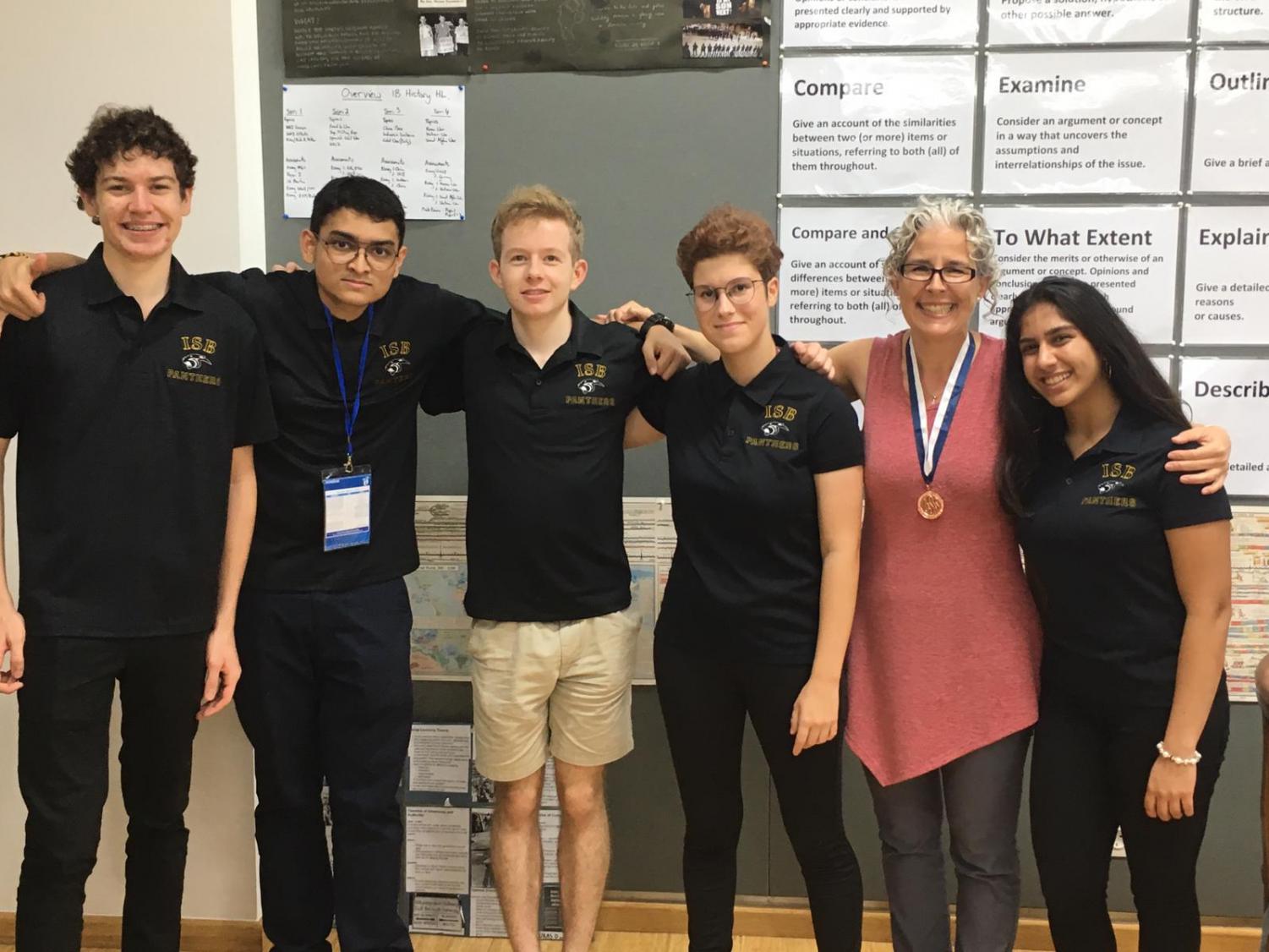 Months and months of tedious research and preparation, culminating into a four day IASAS Cultural Convention hosted by none other than the Jakarta Intercultural School dragons. On February 27th 2019, nothing but nerves and adrenaline began shining through the select group of individuals who represented International School Bangkok at the 31st IASAS Forensics and Debate Cultural Convention.
The journey of preparation for IASAS debaters is truly an ongoing process, as debaters constantly brainstorm debate motions which they can submit to the Cultural Convention. Each IASAS school submits debate motions which they have brainstormed, debate motions can consist of any arbitrary thoughts or ideas and can purposely be crafted as either objective or subjective. As the time for IASAS draws closer, all IASAS schools vote for these proposed motions, by the end of the process 36 motions remain. Jingmin Wang (10) mentions, "preparing for all 36 motions is extremely challenging, since many of the motions are about topics which are so abstract and difficult to understand. Sometimes it's also hard to debate about topics which I personally disagree with."
Arguably, the most tedious task of the entire process is thoroughly preparing and researching 36 debate motions, especially considering the fact that the debate motions are extremely complex and carry undertones of philosophy, as well as aspects of pragmatism and principles. Throughout the year, the debate team attempts to debate and research all these motions thoroughly, while also establishing debate strategies which judges award extra points for, such as arguing on both paradigms (sides) of the motion. Sasha Wertime (10) shares, "IASAS debate was truly an amazing experience. I'm so incredibly proud of all the hard work, sweat, and tears we put into our discipline and it paid off; now, we begin preparing for next year!"
Each school brings two debate teams, one A team which is generally constructed with stronger delegates, alongside a B team, and additionally two researchers (which schools can choose either to bring or not to bring researchers.) At this year's cultural convention, the roles were as follows:
ISB A Team: Sajid Farook (11), Sasha Wertime (10), Jingmin Wang (10)
ISB B Team: Raaid Tanveer (11), Aidan Wiktorowicz (11), Anna Timchenko (9)
ISB Researchers: Sara Khan (10) Matthew Helmkamp (10)
Once all schools are gathered at the cultural convention, all the debate coaches are then subjected to a meeting where they vote for the top ten motions which will be entertained throughout the tournament, however students continue remaining unaware of the ten motions which have been selected, until they are eventually chosen for the debate they are participating in. Sajid Farook (11) recalls, "the most nerve-wracking aspect of the entire tournament is sitting there amongst the rest of the IASAS debate teams, while waiting and hoping that a motion we are well equipped for gets pulled out."
Debate motions are extremely complex, debating three motions in one day is extremely mentally taxing and requires extensive research before hand. The six motions which ISB debated throughout the Cultural Convention were:
This House would not commemorate war. (Proposition)
This House believes that developing nations should place limits on internal rural-urban migration. (Proposition)
This House regrets the widespread belief that motherhood is a rewarding experience (Opposition)
This House would require individuals to pass a political general knowledge test in order to vote. (Opposition)
This House believes that freedom of speech includes freedom to offend (Proposition)
This House believes that even though a society protects free speech, hate speech must be prohibited by law. (Proposition)
Sitting next to the other IASAS schools, bubbled up with an abundance of adrenaline and anticipation as the motion is drawn out of the box, may possibly be one of the most terrifying experiences any debater endures. All debate teams participate in five preliminary rounds, schools which win three out of these five debates or posses the highest speaker scores, subsequently move into semi finals.
"
As a returning delegate, my hopes for this year's team were extremely high, and those expectations were more than exceeded."
— Sasha Wertime
This year, considering the fact that both ISB debate teams were extremely young, both teams came out successful. Although team B won three out of five debates, their speakers scores held them back from competing in the semifinals. However, team A won four out of five of their debates, beating all schools except for Singapore American School (SAS) earning them a third place bronze medal! Additionally, Sasha Wertime (10) was featured in the top eight IASAS speakers, ranking as fourth.
Many tend to underestimate the challenging aspects behind debate, not only do the teams spend months accumulating information and debating 36 varying motions, but over the course of the Cultural Convention they also debate five complex motions while constantly changing over to the side of either proposition or opposition. Matthew Helmkamp (10) shares, "as a researcher, spending hours reading numerous articles whilst trying to memories absurd statistics was challenging, however in the end proved beneficial to the team."
Overall, the Cultural Convention was a success for both debate teams. This year especially, ISB brought forth an extremely young team, with all delegates returning next year, eager to seek revenge and hopefully perform even better!