Is the NFL Racist?
Hang on for a minute...we're trying to find some more stories you might like.
Recently, the Buffalo Bills of the National Football League announced that they had released quarterback Nathan Peterman. In his two years in the NFL, Peterman (24), had 4 touchdowns and 16 turnovers, with a dismal quarterback rating of 32.5.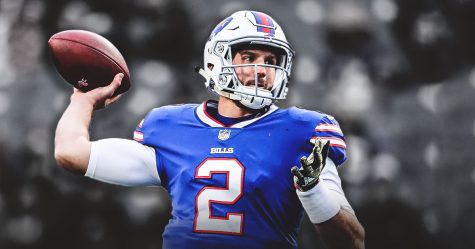 Obviously, simply making the NFL is a tremendous accomplishment. And while many might call Peterman the worst quarterback to ever play in the NFL, this statement isn't very accurate. Peterman is likely better than at least 30% of the league's third stringers, it's just that unlike your average third string quarterback, Peterman got to play. A lot. Because he played in as many games as he did, Peterman got a chance to accumulate all sorts of turnovers and game-losing pick-6s, establishing his legacy as one of the worst ever.
However, the real question is: Why did he play so much?
Back in the 2017 season, Bills coach Sean McDermott decided to bench Tyrod Taylor after 2 straight losses, giving Nathan Peterman his first chance to start. This decision was met with a lot of criticism, especially because the Bills were in the midst of a playoff run, and Taylor's play had been solid. McDermott's decision was not helped by the fact that Peterman ended up throwing 5 interceptions in the first half of his first start and getting benched at halftime. This is when the controversy first started. Why was Nathan Peterman, a white quarterback, given the opportunity to play over incumbent black starting quarterback Tyrod Taylor, who had lead the Bills to a 5-4 start.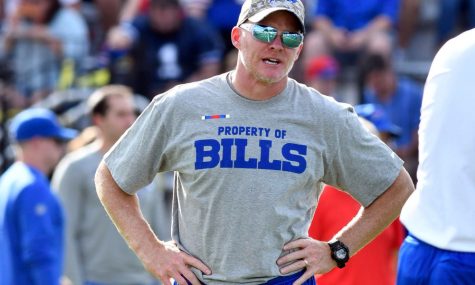 Some argue that McDermott's decision was due to the Bill's back-to-back blowout losses, or Taylor's lack of fit within their offensive scheme. Others instead pointed to the race of the two quarterbacks. This brings up the central question of this article:
Is the NFL racist against black quarterbacks?
Right now in the NFL, there are only 4 black quarterbacks who are the consensus starting quarterbacks of their teams. 3 of them (Cam Newton, Russell Wilson, Deshaun Watson) are considered to be elite, while the other (Dak Prescott) is considered average by most. There are also a handful of other black quarterbacks (Jameis Winston, Tyrod Taylor, Jacoby Brissett, Brett Hundley, Deshone Kizer, Teddy Bridgewater, Geno Smith) who have started recently, but have since been benched for various reasons. Brissett and Taylor are regarded as some of the best backups, Bridgewater looked promising until an injury, and Winston is a former first overall pick who has since fallen off, thanks in part to a series of off-the-field issues.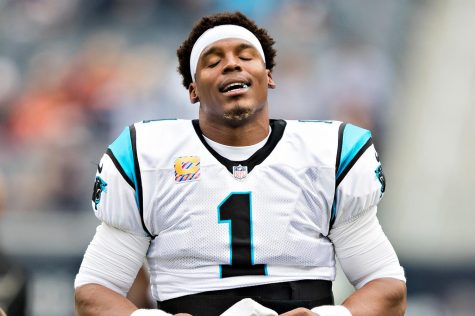 There is also rookie Lamar Jackson, who plays occasionally for the Ravens. Interestingly enough, Jackson fell significantly to the Ravens in the first round of the 2018 NFL Draft, despite the fact that many people considered him the draft's best quarterback. His draft process in general is also worth looking at, as a handful of teams and analysts thought he would be better off converting to wide receiver in the NFL, because of his "struggles" with accuracy as a QB.
What is the significance of this? Well, to many, this is an example of racism. For example, journalist Robert Littal argues that "Lamar Jackson is just a microcosm of what is going on in our society where the margin of error for people of color is miniscule compared to their white counterparts".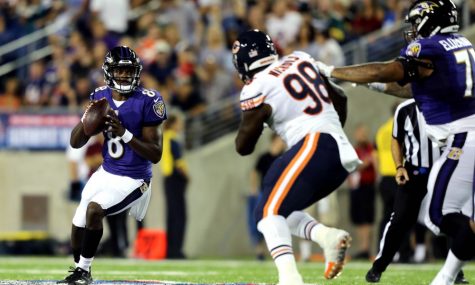 The same thing might have also happened in the 2017 Draft, where the black Deshaun Watson also fell, in part because some people didn't think he was a legitimate NFL quarterback.
Black quarterbacks often are given the label as "incredible athletes who are not very accurate passing in the pocket". This stereotype has been reinforced by players like Terrelle Pryor and Jameis Winston. The former struggled as a quarterback until finally switching to wide receiver to moderate success. The latter, while showing signs of greatness early on, could not overcome his issues with turnovers and also struggled with some off-the-field issues. This stereotype is another potential cause of the NFL's inherent bias against black quarterbacks.
Connecting back to the Buffalo Bills and the Nathan Peterman/Tyrod Taylor (who also happens to be one of the most athletic quarterbacks in the league) saga, some have stated that racism may have played a role in Taylor's benching. Journalist Daniel O'Boyle states that "racism [played] a subtle role in Taylor's benching" and that "Taylor is the reminder that even [a] non-controversial black quarterback playing like an above-average starter has a short leash.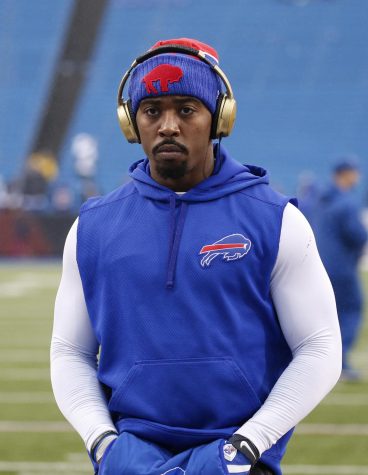 O'Boyle's use of the word "non-controversial" is in reference to Colin Kaepernick, who is another example of the NFL's potential racism. After kneeling during the national anthem to protest black inequality, and inspiring dozens more players around the league to do it as well, Kaepernick was not signed by any team the following offseason.
While Kaepernick was given a chance to play by some teams like the Baltimore Ravens, many people, including players like Richard Sherman, have still accused the NFL of "blackballing" Colin Kaepernick. Kaepernick has also since decided to sue the NFL for collusion.
Kaepernick, is without a doubt one of the top 64 quarterbacks in the game, but teams have often opted instead for less controversial players to fill their backup (or starting) quarterback roles.
Former quarterback, EJ Manuel has also expressed frustration on this issue, heavily implying that he would still be in the NFL if he was white.
Despite all these instances of potential racism, they do each have counter arguments. Tyrod Taylor, Lamar Jackson, Jameis Winston and EJ Manuel all had flaws in their games, and in the case of Colin Kaepernick, he had involved himself in a very controversial situation.
Overall, it remains to be seen if the NFL is truly racist against black quarterbacks. Let us know your opinion on this topic in the comments below.