6 Things You Should Know About This Month and Last
Hang on for a minute...we're trying to find some more stories you might like.
We all have busy lives, so sometimes it can be hard to keep track of everything that is going on around the world. This is why this publication exists. Every month, PantherNation will update you on everything "You should know". Because October did not have an issue, this month's edition will feature 6 things from the last two months.
   1. Kevin Spacey and other Assault Allegations:
Kevin Spacey, a renowned actor, known for a wide array of TV and films, such as the netflix classic, "House of Cards", or the comedy film " Horrible Bosses" has recently been accused of sexual assault by various men in the hollywood industry. Actor Anthony Rapp was the first person to accuse Spacey of this, followed by a slew of allegations from other actors and people working the film equipment. Since these allegations, Netflix has disassociated themselves from Spacey and cancelled "House of Cards."
     2. US Shootings (Texas and Las Vegas): 

Gun violence in the US has been a big issue recently, having 2 mass shootings in the last 2 months alone. The first happened on the first of October, where a gunman in Las Vegas opened fire on over 600 people with a fully automatic rifle and killed over 50 people and injuring 546. This has sparked a huge debate about guns in the US, but contrary to popular belief, the gun he used was actually illegally modified to allow fully automatic fire. The second happened in Texas, on November the 5th, where 26 people were gunned down in a church by a man in full body armour, before he escaped in a car and was followed and shot dead by a civilian.
  3. Catalan Independence:
Catalan had recently, and ineffectively tried to declare itself independent from Spain. The referendum supposedly showed 90% voting to leave, but there was only a 40% turnout. Unfortunately for them, nobody recognised their independence, including Spain. This led to a situation where it was easy for Spain to come in, arrest the leaders, and stop the protesters declaring for independence. It ended when Carles Puigdemont, leader of the rebellion fled to Belgium,  but he will most likely be extradited back to Spain for a trial. 
  4. Astros wins World Series:
The Astros, a team from Houston won the World Series for the first time since joining in 1962, with a 5-1 victory of the Los Angeles Dodgers team. Even though Houston was hit directly by the deadly Hurricane Harvey which caused up to $180 billion of damage to the country, they were able to persevere throughout these challenges and come out on top.
 5. Coup in Zimbabwe: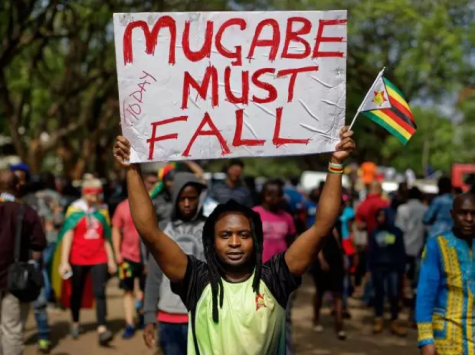 Recently, Robert Mugabe, known as the direct cause or one of the causes of many Zimbabwean problems such as the hyperinflation problem in 2008 which was 79,600,000,000%, meaning 40 cent was equal to 100 trillion Zimbabwe dollars. He is also responsible for taking the land of white farmers, which led to widespread famine in the country, before begging them to return. He was ousted in a coup by the military in an effort to stop his wife from taking power. He is expected to be deposed in the next week.
  6. Saudi Arabia:
Recently, at the end of September, in an order passed by the king, women in Saudi Arabia are now allowed to drive, much to the dismay of many Saudi politicians.. This is a huge step for women's rights in Saudi Arabia, but they still have a while to go, as currently women are not allowed to wear clothes or makeup that shows off "their beauty." They have to have a male guardian when they are in public, go for a swim at a public pool or try on clothes when shopping.
Over the past couple months we have seen several interesting events, both good and bad, go on. Stay tuned for another PantherNation article next month.