New Snapchat- Yes or No?
Hang on for a minute...we're trying to find some more stories you might like.
The new Snapchat update has caused a lot of distaste among users. Many users are not happy about Snapchat's choices, as the update has drastically changed the layout of the app, making multiple features harder to use and access. Now all snaps and stories are accessed by swiping left, and all the stories from publishers, creators, and people from the community can be accessed in the new discover page by swiping right.  
After the update earlier this year, many users have voiced their complaints on other social media platforms like Twitter or Facebook, including multiple celebrities like Kylie Jenner and model Chrissy Teigen. The update has left many users confused and frustrated. But despite the public outroar, Evan Spiegel (Snapchat CEO) has publicly said on Techcrunch that snapchat will not reverse its changes. "Even the complaints we're seeing reinforce the philosophy. Even the frustrations we're seeing really validate those changes. It'll take time for people to adjust, but for me using it for a couple months I feel way more attached to the service."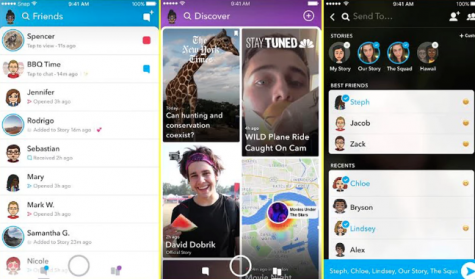 An online petition started over 2 months ago by user Nick Rumsey on Change.org to reverse the changes to snapchat. Currently over 1.2 million people have signed to try and force a reverse of the update. Furthermore, the frustration from the update has caused many users to give bad ratings to the app. In the Apple store, the application currently has over 800,000 reviews and a 1.8/5 average rating. According to the website Business Insider analyst, the update has caused a decline in both user and user engagement with the app, and can potentially impact the financial results of the brand.
Overall, this snapchat update has caused public outcries and has only been harming the app. Let us know your opinions in the comment section below.