Long Talk-Mr. Harvey
Hang on for a minute...we're trying to find some more stories you might like.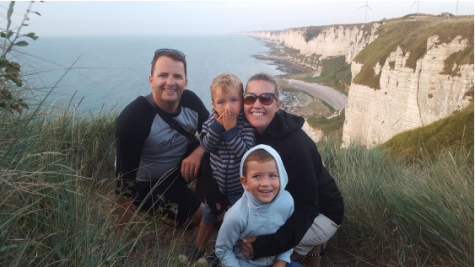 Every other day, we meet with the same teachers for another day of learning. For the freshmen and sophomores, they will remain with that teacher for a year; juniors will stay with theirs for the rest of their high school career. But it is rare to ever get a chance to really know your teachers, your mentors who will guide you through the perilous ins and outs of high school. To take a look at who our teachers really are, we sat down with Mr. Harvey.
Mr. Harvey teaches IB Geography and World Studies, and is the department head of Social Studies. He first came to ISB in 2011. He is originally from New Zealand, but traveled to the UK at 21, something quite common for people from New Zealand and Australia. He lived in London for 5 years, working as a teacher in a public school. He went back to New Zealand for 5 years, and got his first international job in Doha, teaching from 1 year, and then came to ISB.
What do you enjoy doing in your free time?
"I have two little kids, 4 and 6, so a lot of my time not at school is spent looking after them. I coach my little boy in soccer, on Saturday mornings. There is quite a lot of family commitment, but outside of that I like to play tennis, I like to have the occasional game of golf, I like to watch movies. When I'm back in New Zealand, I normally go skiing in the winter. If we're back in the summer, I like to go hiking."
What is a skill you wish you had?
"I think language. I don't speak any other languages, and I think I would love to be able to speak other languages like Thai, because we live in Thailand, but also because I travel quite a lot, and I think it would elevate your experiences when you're traveling if you can actually just talk to normal everyday people about their lives, and in New Zealand growing up as a teenager you don't really see the value. It's hard to think about that when you're a kid, and not many people in New Zealand actually speak a second language; we're quite removed from that, so that would be cool. If you're not exposed to it when you're young, it's really difficult. We need the windows when you're young, of exposure to different language; it just opens you up for later in life."
Why did you choose to become a teacher?
"I chose to become a teacher relatively young; I was about 20 when I decided to go to teacher's college. My degree was in environmental planning, and I had done internship style works in offices, and I just found the day to day work monotonous, so I thought I'd try teaching. Initially it's because I really liked my subject; I was quite passionate about geography and environmental issues and things like that, so I thought it would be a good way to stay within that world, that diverse world of learning new things about that topic, but then I think over time it became more about education and learning, it became more about how do kids learn and how do people learn things. I wasn't really into the education part of it to start with, it was more about the geography part, which maybe secondary school teachers are more like, and I just saw it is a quite varied job. There are a lot of different parts to it, and I knew it was a good job to travel with as well, and at the time I wanted to go traveling, so that was a part of it.
If you could teach another subject what subject would you teach?
"I can't do any music, but if I could be a music teacher that would be awesome. Outdoor education would be cool. In New Zealand we have a subject that's outdoor education. That would be cool. You'd be teaching kids about the same sort of stuff they teach down at the Wilderness Campus. I think that that would be a good job to teach. Otherwise, probably ESS. That's a bit closer to the kind of subject I'd like. ESS is Environmental Systems and Societies. It's still kind of in my world though, so maybe that's not the best choice. If the  chance, I would still stick with geography. That would be my first choice.. The reason I like geography so much is that in university, I studied economics biology and policy, such as government policies, and geography merges the three of those; it's very multidisciplinary. I don't feel like I'm stuck in any particular world. One day I might be talking about rivers, and the next I'm teaching government policies or anti trafficking laws, so there's quite a variation.
Thank you to Mr. Harvey for the long talk. We hope that you are able to gain insight into Mr. Harvey's past and personality, and stay tuned for more long talks in the future.