6th Annual ISB TedxTalks
Come and watch ISB's 6th Annual Official TedxTalk Event!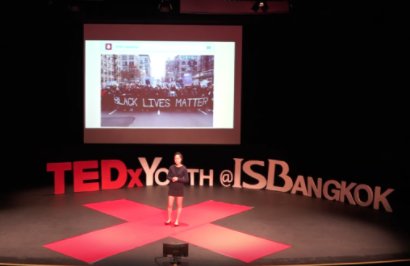 Hang on for a minute...we're trying to find some more stories you might like.
Amongst several members of the ISB community, the TEDx event is one of the most anticipated events of the school year.
2018 will mark ISB's 6th annual TEDxYouth Event, where 10 representatives from the junior class are selected to present their speeches.
Students play a significant role in the event, as in addition to presenting, they are largely responsible for hosting, filming, and editing. As Mr Bell, the HS Tech Coordinator, says, "It is an awesome night to highlight the skills and abilities of ISB students".
The event will take place on January 18th in the CCT.
Every junior got to research and present their topic, and 10 of the best were chosen. Here are the speakers
Anna Stanley – Poetry Matters, Tee Monsereenosorn – The Emotional Language of Music, Jerry Cho – Are AIs posing a threat to humanity?, Lulu Schmitt – Suicide: Let's talk about it the RIGHT way, David Lim – Why the arts is more important than you think, Pawarisa (Pancake) Hetrakul – Collectivism: Friend or Foe?, Nikki Ling – Quiet Confidence: Follow the introverted leader, Poon Singhatiraj – The Art of Good Political Discourse, Kohei Yasui – Net neutrality and Internet Freedom, Alina Chan – The Power of Yes
A more detailed rundown on the presenters, as well as information from the past TED events can be found here.  PantherNation was also able to interview some of the speakers to gain more insight into their topics.
What made you choose your topic?
David Lim (Fine Arts) – "Because I've been playing the cello since 4th grade, I have always been committed and passionate towards ISB's Arts Program."
Alina Chan (Power of Yes) – "It is a topic that I can talk about easily without having to say things I don't believe in. It was also the very first topic that came to my mind when we were told that TED Talks would be in a week."
Poon Singhatiraj (Political Division) – "I realized how big of an issue it is after seeing millions of online arguments about everything that happens, not only with the American government but governments all around the world. It really got me thinking on why this divisions occurs and how we can solve it."
Lulu Schmitt (Suicide) – "I chose my topic because I think it is super applicable to us as teenagers. Also, the majority of us watched the TV show "13 reasons why", but may not have realized the negative effects it might have had."
Pancake Hetrakul (Being yourself) – "I chose my topic based on my personal experience. It was also something that I have been curious about for a while, so I decided to research about it.
What advice would you give to sophomores for next year?
David Lim – "Pick a topic that you actually care about. In doing so, it will be a lot easier to write and present."
Alina Chan – "Make sure you have a good introduction and conclusion, make sure you know the content by heart, and make sure your slides and photos add to your presentation."
Poon Singhatiraj – "Choose something that's interesting to you, seriously. Don't think that a hobby or interest isn't worth a TED talk speech, because anything can be turned into a catalyst for change. Make sure that you have an even balance of research and anecdotes, and support everything you say with evidence. And make sure to practice."
Pancake Hetrakul – "Do your TED talk on a topic that you're really passionate about or else your audience won't be as interested."
Lulu Schmitt – "Talk about something that you're really passionate about, you're going to be working on it for a couple of weeks so it has to be something you enjoy researching."
What were some challenges you faced in researching your topic?
David Lim – "​Finding credible sources that were not too outdated."
Poon Singhatiraj – "Figuring out the "scope" of my speech and creating a realistic catalyst for change. I wanted to be able to keep my topic open enough so that others can relate to it, but not so big that I would have way too much information to work with. Finding a balance was pretty challenging."
Pancake Hetrakul– "I found writing and structuring my script to be the hardest."
Why should people come to the TED Talks?
David Lim – "The speakers' main audience is the student body. Since the talks are relevant to us, you should come out and see what the presenters have to say. Also, for sophomores, it'll be a great way of preparing for your TED talks next year."
Alina Chan – "Anyone: Come learn about new topics! See the huge amount of work and effort that we put into these talks. Freshman and Sophomores: It might not seem like you will have to do it soon, but the time will come really fast so come and get some inspirations. Juniors: Support your friends! Seniors: Think back to the times you had to do this!"
Lulu Schmitt – "We have been working really hard this past couple of months on our TED talks and it would be great to have a big crowd to show our efforts to.  Also, there are some really interesting topics that are super applicable to us as a community, so make sure to come out!"
Poon Singhatiraj – "It is a culmination of the hard work of so many people. Each speaker has an idea that  everyone can learn from, and it's interesting to see a person's take on a contentious issue.  Also, you might never get the chance to attend another TEDx event again. Just go!"
Pancake Hetrakul – "People should go to the TED Talks because all 10 of the speakers have worked really hard to prepare and practice their TED talks. All the topics that are going to be discussed are also things that we are really passionate about and by listening to our TED talks, we hope the audience can gain something and make a change in the society."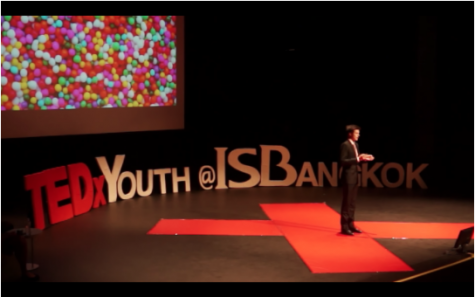 This year's TEDxYouth event should once again be a fun night for everyone involved. Be sure to attend this Thursday in the CCT at 6pm.