Long Talk: Ms Greaves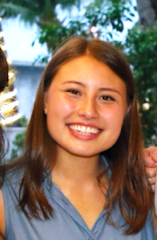 As we near the end of the (virtual) school year, there are some goodbyes in order. As part of an ongoing series, PantherNation sits down with departing staff to get their thoughts on their time on ISB, and where they are going next. Ms Greaves, High School's annual substitute teacher, will sadly be leaving us this year. 
What is your current position at ISB and how many years have you been here?
I have only been at ISB for a short time, I arrived last August so have only worked here for 1 year. I am the high school annual sub along with Ms. Coates. I also had the pleasure of having my own Chemistry II class last semester and this semester. 
What is the next destination in your life?
In August I will be moving to Japan to work at Nagoya International School. I'm very excited! 
Why did you decide to go there?
Japan has always been on my list of places I have wanted to live. I am half Japanese so I thought it would be a great time in my life to experience and learn more of my own culture and language. 
I have loved my time in Thailand and can see myself moving back to a country like this again, however, I grew up in Canada with season and snow. I love having seasons and I love to ski so I am also excited to experience these in Japan. 
Looking back on your time at ISB, what memories and feelings will you take away from here?
I am very sad to leave ISB. For me, ISB was my first teaching position out of university. ISB gave me the opportunity to work with established teachers and interact with amazing students. I have had the great pleasure of collaborating with teachers and learning from them. Everything I have learned this past year from admin, teachers, and students have and will continue to shape me as an educator. I am grateful for my time at ISB, and although I will miss the sunshine and great food, I will miss the people the most. 
Some of my favourite times at ISB were during assemblies, game days, spirit night, lunchtime events, etc. where ISB spirit was on display. I loved seeing the accomplishments of all students and support from the school. I will definitely miss ISB's atmosphere. 
What final thoughts or advice would you like to leave with the students of ISB as you depart?
This is a challenging one. All in all, I would say to the students: Enjoy the time you have and don't compare yourself to others. This might be cliche advice but it's true. I look back at my time in high school and university and it took me a while to figure out my own path. It was difficult for me when I saw people who knew what they wanted in grade 11, but in the end, I landed exactly where I should be and everything worked out. 
We wish Ms Greaves all the best as she continues her teaching journey!