InvisAbilities Day!
November 2nd was a memorable day for many students, especially the members of the InvisAbilities Club. This was the day when the first InvisAbilities Day took place in the cafeteria. Performers gathered there and had a great performance with songs and plays. The Invisabilities club is a new community service club founded this year by Alexandra Medina and her friends. In order to know more about the InvisAbilities club and their activities, we had an interview with Alexandra, the president of this club.
The name "Invisabilities" is a portmanteau of "Invisible" and "Disabilities". She founded this club because she wanted to change the situation of mental and physical disabilities going unnoticed.  She explains the purpose and the goal of this activity as " reducing the negative stigma surrounding disabilities". In order to reach that goal, the first thing to do, she says, is to raise awareness. By raising awareness, students who were oblivious of this issue would give attention so the sense of inclusion will be fostered. Therefore, the greatest positive outcome of the InvisAbilities day was that many people got to know about this club and got not only the high school but also the middle school students involved. The club members are satisfied since this club is not just about talking about disabilities, but also has exciting events. The fact that the students had fun in the Invisabilities day was a huge bonus.
Of course, raising awareness of this issue is only a starting point. The club aims to go beyond raising awareness and working towards being more positive about including people and having connections. Alexandra stresses that it is the idea of being perfect that is keeping us away from including someone different. The hurdle is high for them, especially with non-physical disabilities. This is why we have to be more open about this. The biggest action we can do as a student is just talk with them and be friends, but not reluctantly. Some of the students may have a preconception that there is a big wall between you and the disabilities. The fact is, there isn't. Alexandra comments on her interaction with those kids, saying "they're really sweet, and it was super fun". As long as you get rid of your bias towards disabilities, you can enjoy being with them. InvisAbilities club is promoting the idea of becoming visible of the charms that children with disabilities have just like us.
If you felt something resonating with you in the Invisabilities day or this article, it is a good idea for you to show up at the InvisAbilities Club on Friday, Week 2 in Mr. Werner's room. Feel free to join them and interact with people show share the same values as you!
About the Writer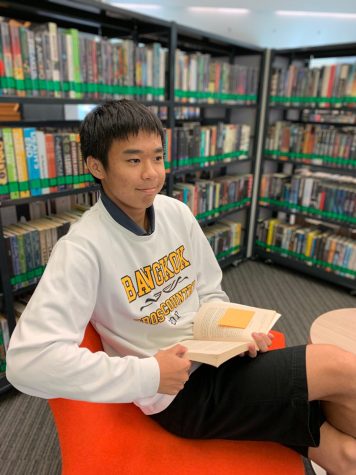 Rei Sato, Head Editor
This is my second year at Panther Nation. I enjoy this class as an opportunity to improve my writing skills. I am a varsity cross country member as well...