Premiere League Top 6 Predictions
Hang on for a minute...we're trying to find some more stories you might like.
This season's Premier League is very special. It will definitely be more interesting and more fun than any season because of the amazing form of Manchester City. The transfer is also very interesting, as Liverpool and many others teams have bought in new qualities player. Here are our predictions for the top 6 teams of this year.
Manchester City will likely win the Premier League due to their strong starting players and substitutes. City will have lots of advantages mainly because they have many players to rotate, so the players will be fresh and ready to go for each game. They are also ready to play against any team with experience because they have previous Premier League winning players such as Sergio Aguero, Gabriel Jesus, Riyad Mahrez, Raheem Sterling, and Kevin de bruyne. However, the one question that fans really want to know is if Pep Guardiola will get sacked. For the last 4 years, every Premier League winning manager has been let go at the end of the new season. Nevertheless, I do not think the pattern will continue this year because he has a long contract with City and has lots of players to support him.
Liverpool will most likely not win the title because of their unsteady standard of playing, which could be a result of the poor form and tiredness of the players. However, they may possibly still achieve second place because The Kops (Liverpool) are likely to lose and draw more games toward the end of the season. Therefore, it is reasonable to predict that Liverpool will start off very well and win lots of games during the first Leg of the season.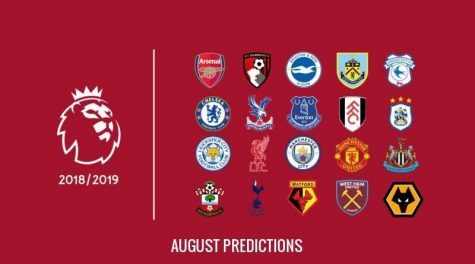 Chelsea will finish in 3rd place. Chelsea is a team that relies on teamwork because of the different styles of play each player has. Chelsea's teamwork is very effective but may not be good enough to win the Premier League. PantherNation believes that Chelsea will win the league in a few years time, but not as of right now.
Spurs will definitely finish in fourth place. The quality of the squad is brilliant but Spurs players will likely be tired towards the second leg because of the limited player options they have to use.
Manchester United will likely get 5th place because of their unstable standard. Jose Mourinho helped Manchester United so much, but the team is still unstable due to their subpar team spirit.
6th place is very hard to predict. Panther Nation would say that Arsenal or Watford will be in sixth place. While both of the teams have a lot of wins, they will likely lose against big teams such as the ones mentioned above. The probability that Arsenal and Watford will finish in 6th place is Arsenal 55 percent, Watford 45 percent.
These are the predictions for this year's season. Do you agree with these predictions? Stay tuned for more Premier League articles from PantherNation.