Bouncing Back
Hang on for a minute...we're trying to find some more stories you might like.
Season 2 is coming to an end, marking the start of the final length for the swimmers – IASAS. Last year, the boys swimming placed an overall 3rd in ISKL. This year the tournament will be hosted in JIS from Feb 1st to Feb 3rd.
The swimming coach, Mr. Day say that the boys team this year has great depth throughout the team, with multiple seniors already having gold medals in the past years. Even though the past results may not have met the expectations of the team, Coach Day explains that  this team is very focused on accomplishing their goals, very hard working, and very prepared for the upcoming competition.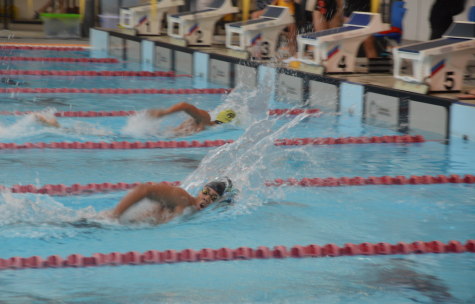 One of the swimming captains, Thana "Tar Tar" Jarusinchai (12), remarked that  the team is ready to bounce back from last year's "disappointing" IASAS. Even though last years boys received a bronze medal, the team was not satisfied with the overall performance.
Tar Tar says that the whole team has tried very hard to improve, beating their own personal best throughout the entire season. He quotes that the main strength of the team is how "everyone has their own unique individual goals and aspirations for IASAS and we have a clear method in progress to achieving them." He also mentions that everyone has improved a lot and the team has came a fair distance from where it started. The members have shown commitment for the team, working very hard to improve and achieve their goals.
"
Honestly that's all we can ask for because everything else will sort itself out when you work hard,"
— Tar Tar
The whole team has worked hard throughout the season and has done their best to prepare for the big event. "Honestly that's all we can ask for because everything else will sort itself out when you work hard," TarTar says.
The swimmers are ready for the last stretch. Putting on their Panther Pride, they head towards the finish line, and the last finish line for the many seniors on the team. How do you think they will do in Jakarta? Feel free to leave your thoughts in the comments below.
Nont Yolsirivat