"Today was simply the worst state I have seen the cafeteria left after a High School Lunch in a long, long time." This admonition came last school year in an email from Dean of Students Andy Vaughan after students trashed the high school cafeteria during lunch one day. It had been raining that afternoon, which didn't help matters, but students demonstrated thoughtless and rowdy behavior, creating an absolute mess for staff to clean up.
This wasn't the first or the only time students left the cafeteria in an unsatisfactory sanitary condition. It's a relatively common occurrence due to a certain minority of students who apparently see no need to pick up after themselves. Why should we care if there are plates or pieces of plastic left littered around the cafeteria? In reality, there are myriad reasons why we should care, not least is that it affects other people in our community. If it wasn't a problem, Mr. Vaughan never would have sent that email. Both staff and students alike are frustrated with misbehavior in the cafeteria, usually during or after lunch hours. "I find that frustrating," Mr. Vaughan says. "So I think other teachers and other students when they go to use a table when it's messy or dirty feel similar."
Fruit cup left outside on a bench. By Author, 2023
It's important to recognize that it's not solely the job of our dedicated B&G staff to clean up after students. Their responsibilities extend far beyond this, and their time and efforts are more efficiently spent in other areas, like fixing malfunctioning air conditioners and flickering lights, and maybe even broken projectors. But their time is being wasted on tasks that are not their responsibility, like students forgetting to throw away their paper bags.
Hopefully most students are merely being forgetful when they abandon paninis or fruit cups on tables and benches around the school, or leave dirty plates on tables during lunch. But there are those who have grown up with a different mindset regarding personal duties and responsibilities. "I think for some students, it's a learned behavior where they've learned to leave it and expect somebody else to pick it up," Mr. Vaughan explains. In a community like ISB, there are many students who are quite fortunate and whose families have the resources to hire maids to do most of the cleaning and household chores. There is nothing wrong with that in itself, but it doesn't excuse students from demonstrating the basics of good and thoughtful behavior. They should not expect anyone else to clean up after them.

Paninis left outside in the hallway. By Author, 2023
Students may not realize the implications of leaving their plates behind, so let Panther Nation help fill you in. Not only does it add work for the employees who already work tirelessly day in and day out in the cafeteria, but there is also a troubling ripple effect: The remains attract birds and squirrels, who indulge in food that's not suitable for them, and this leads to unwanted consequences like animal waste being scattered throughout the school, including the cafeteria. This forces our B&G team to clean up not just the food but also the extra animal feces left behind.
Additionally, our B&G staff has voiced their concerns about student litter, primarily food, plates, and paper bags left at tables or on the ground. There have even been recent complaints about certain students spitting chewing gum onto the ground, causing a sticky mess that's not only unpleasant but also time-consuming to clean. The B&G team recently had to use various cleaning agents and alcohol to scrape the gum off of the floor when their time could have been better spent elsewhere around the school.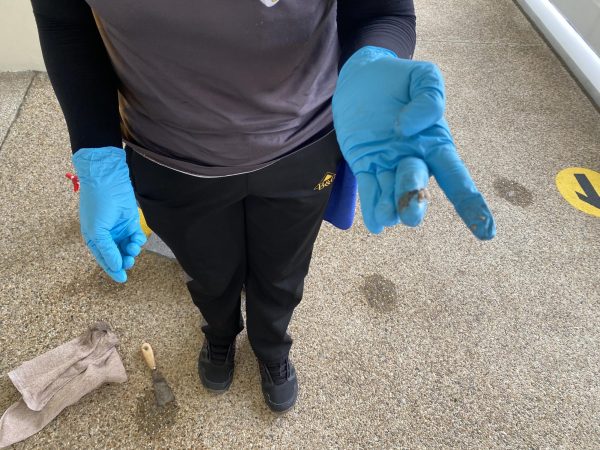 B&G staff scraping gum off the floor. By Andy Vaughan, 2023
In the end, there is truly no argument against being considerate to others and picking up after yourself. Otherwise, you place unnecessary burdens on others, resulting in a dirtier school that we all have to deal with. Animals have a field day with the plates and crumbs, leaving their marks all over our school, particularly in the cafeteria where we eat. Our school can't always be spotless, but you, as a student, can play a vital role in making it a bit cleaner just by picking up after yourself.