IASAS Golf Recap
Hang on for a minute...we're trying to find some more stories you might like.
This year's ISB IASAS golf team traveled to Jakarta Intercultural School (JIS) to compete in the 2018-2019 IASAS Golf. Confronting difficult IASAS competition over the 3-day event, our girls managed to come away win 5th place, while the boys finished in 6th.
When asked why the teams finished where they did, Coach Callahan claimed, "over the last few years the IASAS golf competition and level of play have improved significantly… We used to have two or three guys on the team that was breaking '100', now there are five out of six guys that are shooting 70's on the opposing teams. Other schools have been improving at the same or faster pace than us. Working hard for 2 months out of the year is not enough for our athletes to be competitive… you need to be out on the course all year round, working on your short game, or long drives."
This year's golf team was stacked with Senior athletes, and they will be missed on the course next year. Coach Callahan was excited to see his returning athletes like Jeff Manthananon and Bambam Limprasert play again. He praised Jeff as the "best ISB golfer since the founding of IASAS golf… He's got all the game!"  As for Bambam, Callahan characterized her as "a quiet leader, totally reliable, and really skilled in her approach to the game." The team made steady improvements from the beginning of the year and took their skill to Jakarta where they left it all on the course.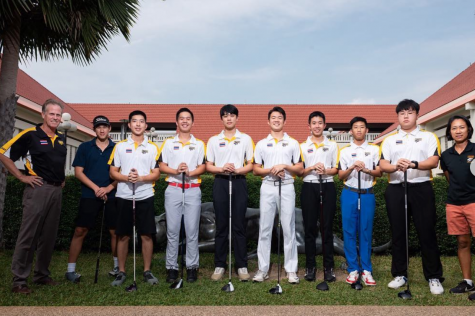 Coach Callahan sought out leadership in varsity athletes and saw their initiative on the course.  Returning IASAS golfers gave their full commitment to the team, showing their love for the game and overall sportsmanship. Coach Callahan wanted to instill the ideals of the game and life, not only the general rules. He taught them to love the game and put in their full commitment. "ISB is a big school where students have many opportunities to pursue their passions, and it's difficult for students to focus on a competitive sport like golf."
Coach Callahan sees success for athletes as not only an improvement in their skill but a passion for playing the game. Athletes are held to an ISB standard of integrity, and honesty and that shows on the course. "I'd rather have us come in last place than ever be accused of cheating or anything like that."
Callahan says that if ISB had some kind of on-campus facility to work on golf skills, the ISB athletes would be more skilled, and not lose time as they travel an hour to a golf course off campus. Not only current athletes could improve their game, but the culture for golf could be built in ISB. Having a putting or chipping green here on campus could get students started early, maybe even introduce golf to younger students so they can compete in IASAS golf when they are older. Callahan said that it's challenging to pick up golf for 2 months and become a good golfer. The game takes time and patience to perfect.
This year's golf team will never be FORE-gotten!