The Steel Panthers: Battle in Bangkok
Hang on for a minute...we're trying to find some more stories you might like.
Robots: metal machines that can be built and programmed to carry out almost any conceivable task. In the technology era, robots are becoming increasingly vital to our society, and even our school. ISB's robotics team, the Steel Panthers, after months of hard work constructing their robots, headed to the Battle in Bangkok, a major robotics competition in NIST, and the last stage in qualifying for the ultimate competition: the VEX Robotics World Championship.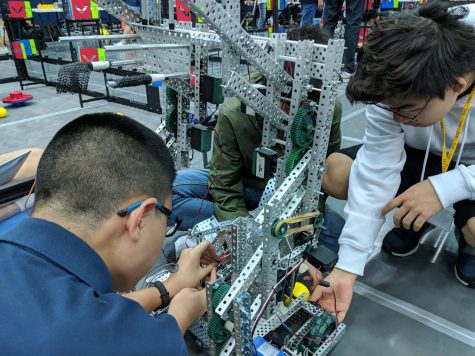 The robotics team has come a long way. Starting in the fall, the teams have been working on their robots for the first competition at Taipei American School at the end of November. It was a learning experience for the Steel Panthers, as they realized that the robots had not been field tested enough. Only one of three robots moved to the playoffs. Nevertheless, the teams sprung back with renewed vigor, eagerly working on their bots and playing in an ISB scrimmage, where the teams could demonstrate their new and improved robots to faculty and parents. Their work payed off, and the teams moved on the Battle In Bangkok.
Steel Panther Teams for the Battle in Bangkok
Robot 8861A (Team Freshmen): Brendan Roeting, Andrew Fewins, William Fewins, Rory Switala, and Ionel Taflan
Robot 8861B: Jitpuwapat (Earth) Mokkamakkul, Alan Yang, John Jackson, Emily Merritt
Robot 8861C:  Brian Yoon (Captain), Yichen He (Captain), Jingmin Wang, Ganghee (Alex) Son, Rafael Barote, Kym Relova, Man Vilailuck, Jai Thampakkul, Tata Pinpakornkul, Bora Kaya, Raaid Tanveer.
Team Freshmen had a robot that consistently worked and could always flip discs and climb platforms. However, they ran into some tough matches and performances.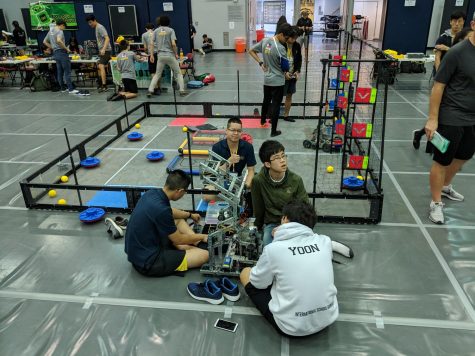 Robot 8861C had some close games. One of the largest teams in the competition, their quarterfinal match was incredibly close. Their quarterfinals had to be played again, and this time they emerged the clear winner and moved on to finals. However, they had some serious competition.
Robot 8861B had also moved on to finals, and in an epic finale, the two Steel Panther teams were pitted against each other on opposite sides of bracket. 8861B was paired with Phoenix 1, and 8861C was paired with Diablo, both from Indonesia.  In the end, 8861B emerged victorious, with their high points earning them a place in the World Competition, to be held in Kentucky. 8861C, on the other hand, earned the Judges Award for their elaborate and thorough notebook which highlighted their robot's design changes throughout the course of the year.
Congratulations to all of the Steel Panther teams for their hard work, and especially to 8861B for moving on to World's!