IASAS MUN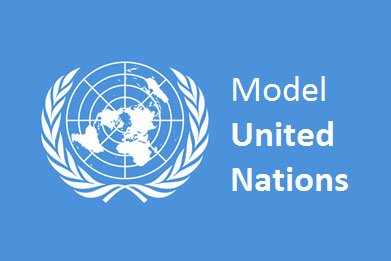 Hang on for a minute...we're trying to find some more stories you might like.
This week, the ISB MUN delegates will fly to Manila to participate in IASAS MUN, an international conference made up of delegates from all over South East Asia. Motions will be passes, debates will be held, and gavels will be struck. But what is MUN, and why should you join? PantherNation attended the MUN lunch on November 6 to talk to Mr. O and Ms. Weber to find out more.
Model United Nations, also called Model UN or MUN, is an simulation of the UN where students play the roles of delegates to the UN, and learn about diplomacy, international relations, and what the United Nations does. Delegates speak, debate, write proposals, and learn to work together to achieve their common goals. ISB offers MUN as an extracurricular activity that takes place after school, coordinated by Ms. Weber and Mr. O.
Mr. O explains, "[MUN] is also about taking risks, and learning speaking in front of an audience, which is very important. Learning to adapt to speaking in front of others, learning to adapt to working with other people, and taking on issues on a larger scale allow the delegates a wider range of exploration.You can branch out to so many different areas, since in MUN not only do you practice your public speaking and adapting to different scenarios, and working with different people: you work with serious issues, the '"real deal'"."
Ms. Weber elaborates, "What Mr. O said about the practical skills is really very important, and the only thing I really want to say is, which may be a little cheesy, is that MUN fulfills all of the mission statements of ISB. Every single one. If you look at what those goals are, yes there are the practical skills, but they complement what we hope our students will become as human beings."
Mr. O adds "It's also not just about going out there and making your best speech. There is an audience out there, and you need to make sense; your speech should be accurate, but also coherent, and learning how to do that is something bigger and more important than all the rest MUN does for young adults. Once you practice something as a kid, it's like muscle memory and will work later on in life in so many ways. I highly recommend you throw yourself out there into the water; you can catch up on so many things later on in life. When it comes to MUN, it is a unique opportunity."
"
MUN is FUN!"
— Jitpuwapat (Earth) Mokkamakkul
The delegates were sent off with a grand lunch in the MPB, with the booster hut passing out the coveted IASAS bags, and Mr. Giles giving a grand speech to close the ceremony. When asked about MUN, Jitpuwapat (Earth) Mokkamakkul had this to say to all prospective MUN delegates: "MUN is FUN!"