Can Trump Get Re-elected?
Hang on for a minute...we're trying to find some more stories you might like.
Donald Trump, a controversial character and the current President of the United States, will be coming up on a year in office in the next 3 months. No one was sure he would last this long. It has been a very eventful time so far, and we will see if he lives up to his contentious campaign promises that won him the election.
Donald Trump has actually done a lot to attempt to come through on the promises he made during his campaign. He started off the year in January, just days after inauguration with a travel ban on people coming from certain countries in the Middle East such as, Syria, Iraq and Iran, as well as a few more arguably war torn countries in eastern Africa. After many judges attempted to stop the ban in it was successfully halted until he tried again on October 17th, only to be blocked, yet again.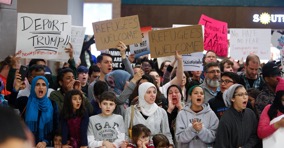 Trump had made another big campaign promise, trying to repeal Obamacare, which he has made a huge effort to come through. However, this act was blocked by the senate, twice, despite the fact he has a majority because 2 Republicans did not want to repeal it. He has also come through recently on attempting to decertify the Iran deal, which was made in 2015 with a group of world powers in an attempt to stop Iran from creating nuclear weapons. A lot of what he has tried to do has been blocked so far, and he claims that plans for it are allegedly "in the works."
We interviewed some students at ISB who will vote in 2020 in order to get their opinions on the current president.
Adam Scherrer (11) said that he was happy when Trump won, and he "thought [during the campaign] that he would come through on his promises." But, he said he has not been happy with how Trump has governed in 2020 and will not vote for him in the next election if he continues to govern like he is doing now.
Craig Dawe (10) was surprised and happy when Trump won, and felt it was a blow to the mainstream media as they had tried so hard to prevent Trump from becoming president. He said it was "nice to know that there were still people left in the US that were not afraid to support someone like Trump and oppose the mainstream." However, after Trump's recent actions, he believes that the Republican party "made a mistake picking him." At this rate, he will not vote for Trump in 2020.
Sasha Wertime (9) was "devastated" when Trump was elected to office. She was a staunch Hillary supporter through her campaign and was "genuinely shocked and disappointed with the outcome." She always believed he wouldn't come through on his promises as they were implausible and "not thought through." She has not changed her mind on any of these issues and definitely will not vote for him in 2020.
"
Genuinely shocked and disappointed with the outcome."
— Sasha Wertime
I think that most of his campaign promises have come through. If he continues this and does not make any overtly outrageous decisions, I think he may manage the next 3 years, even if many Americans our age do not vote for him. And, if he can keep the swing states happy, he may even get re-elected.
Jonathan Tostevin