Top 5 things to do over October Break in Bangkok
Hang on for a minute...we're trying to find some more stories you might like.
October break is coming up, and while a lot of people are traveling around Thailand and other countries, there are so many fun activities right here in Bangkok. Here are the top 5 things to do if you are staying close to home.
Flow House Bangkok
Flow house bangkok has a flowrider which simulates real waves so that you can ride the waves in the middle of downtown. As long as you are older than 5 and younger than 80, you are welcome check it out. Even if you are not an experienced surfer, there ar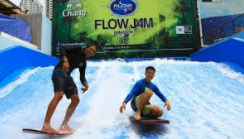 e trainers to teach you. Besides the flowrider, there is also a pool and a restaurant. All of this is located in the A-Square Community Mall in the middle back section. On Tuesdays students get a buy one get one free discount. On Thursdays, girls pay 450 baht/hour all day and ride the flowrider for free from 10pm to midnight. Usually the flowrider is 750 baht per hour and it is open from 2:00pm to 11:00pm on Monday through Friday and 10:00am to 11:00pm  on Saturday, Sunday and public holidays.
The Rink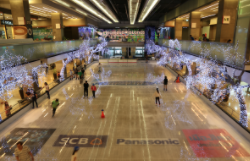 Ever wish you could escape the heat of Bangkok? Well you can at The Rink – an indoor ice skating rink. The rink is Olympic sized and there are many branches in Bangkok. One is at central Plaza and another at Central World. Not only is it a rink for fun, but it is also a rink for practicing hockey. To skate for fun there are sessions throughout the day and it costs 800 baht for a full day pass. However there are different prices for shorter amounts of time. If you want to take lessons here are coaches and it is possible to get a membership. It is easy to spend an entire day!
Easy Kart:
Easy Kart is a go karting rink that was opened in 2004. It is one of the largest indoor tracks in Asia. You can choose from a number of things to do here such as tournament style races or F1 style races with warm ups, qualifying laps, a final race, a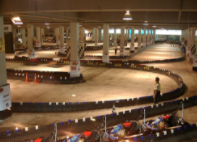 podium and trophy for the winner. Drivers can even book an MC to start the race and present the trophy.For kids 8-12, there are go karts that go up to 25 kilometers per hour. If you are over 12, you have the option of driving one with a speed of 40 kilometers per hour or 60 kilometers per hour. Easy Kart is located at RCA plaza it opens at 1pm, and the cost starts at 400 baht.
Combat Zone 62
This is a paintball and BB gun field that is considered one of the best fields in Thailand. You can rent guns, safety kits, and suits. The balls are purposely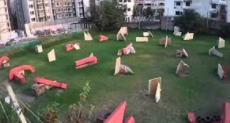 Biodegradable Proto balls imported from Taiwan that can wash off easily. This game is perfect for 12 year olds and older. The field is open from 1pm to 7pm on Monday through Friday and is open from 10am to 8pm on Saturday, Sunday and holidays. The pricing starts at 450 baht.
Chatuchak Weekend Market:
Although it might be a little overwhelming, the variety of shops to choose from could take up a whole day. From pets to antiques, this market has everything that you could want or need. There is always bargaining but make sure to bring enough money because you never know what you are going to find.
If you have anymore places to check out or any opinions about these places let us know in the comment section down below!
Isabella Abate