International Choral Festival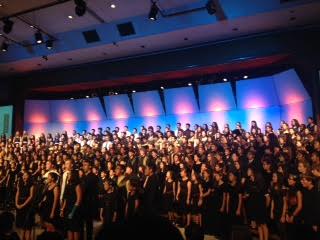 On October 2-3 2015 both Middle and High school choirs at ISB were joined with students from other International schools, NIST, Bangkok Patana, St. Andrews and Bromsgrove, Ruamrudee, Ekamai International school Dalat International school and ISKL. The guest conductors Dr. Dilword from Temple University in the United states and internationally renowned, former ISB choir director Ms. Dinah Helgeson.
The festival was amazing with great energy and magical performance from all the singers. It was nice to see students from all over Thailand and Asia make new friends and work together with them. Ivana Kovacevic (9) one of the singers at the festival enthusiastically said "The festival was nice because there were a lot of people from different schools and they were all very friendly. It was fun just to hang out with friends and sing different songs than I usually do. It was a great experience." The singers sang in different languages. They went in depth to the meaning behind the songs and what the symbols are and how they relate to the song.
All the students have been working hard perfecting and polishing the songs and did a wonderful job performing. Nicole Gude (9) shared that "it was fun to sing with people [I've] never sang with before, I like that we got to sing with the boys, because it brings a different sound, unlike the girls, but over all it was a great experience, I can't wait to do it again."
The choir festival continues with a busy schedule this semester at ISB. Including the "String Thing" and the HS play Amadeus. Our school continues to be a special place with many stunning performances to come.
Suu H