Phayathai Orphanage Baby's Home Club
November 7, 2019
At

PantherNation

, we try to highlight a different club two times per month in an effort to promote their cause and celebrate the efforts and passion of its members.  This week, we will focus on the Phayatai Baby's Home Club.
The main purpose of Phayathai Baby's Home is to "take time to play with and support some of the youngest children at the Phayathai orphanage" according to the club supervisor, Mr. Sweeney. Minji Su, a club officer continues.  Since the staff/workers at the Orphanage are all busy, we like "to share the love with the babies in the orphanage."
The kids are about 2 to 4 years old. So, if you want to chill with adorable kids, this is the place to go!! The club is broken into two meeting times. On Fridays, during week 1, the club meets to make plans for, and reflect on their visits.  On Tuesdays, they visit the Orphanage which is about a 20-minute drive from ISB, depending on the traffic. Additionally, if you are looking for service hours, this club is fun and valuable! Since I (Lilika Kikuchi) am also a member of this group and feel that this club is really worth it and enjoyable, I'd encourage you to join as well! The babies there are very adorable!!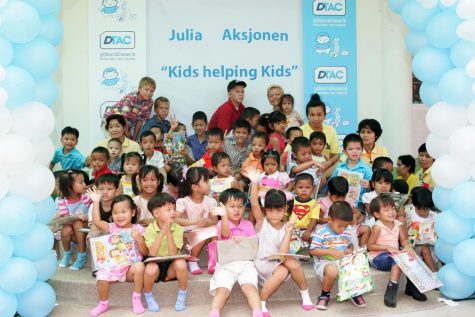 Nevertheless, students are able to gain not only "love and mindfulness," they are also able to "develop their sense of empathy for people around them that may not have the advantages with which we have been born, according to Minji.  Furthermore, Mr. Sweeney likes that students are able to gain an "interconnection between ISB and the local Thai community," which you can gain knowledge of the experiences of being in the Thai community (such rare experiences are worth it for applying to the University as well!!). 
The kids in Babies Home are willing to see students in ISB, and you can also have fun being with them after all!