The Debate Between Gas and Electric Golf Carts in Nichada
October 15, 2019
If you live in Nichada, you know that it is a very unique community. It's culturally diverse, connected community makes it such an interesting place. However, a staple of life in Nichada is the golf cart. A surplus of Nichada residents own golf carts, using them to get around the mini-town. These small vehicles provide immense convenience for people trying to commute around. With that being said, there are two distinct types of golf carts, gas and electric.  Both have their benefits and their drawbacks. With most people owning one or the other, there are strong opinions on the two main golf cart types. Here are the perspectives of some ISB students: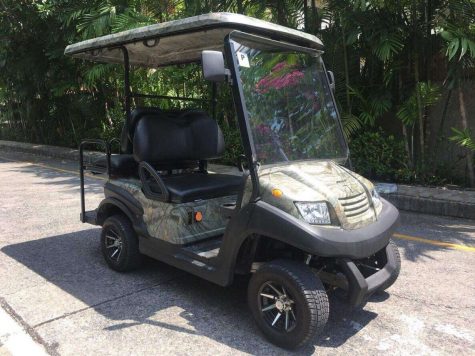 Gas Golf Carts:
The first golf cart type being discussed here is the gas golf cart. Gas golf carts are usually more high-risen and faster in comparison to electric golf carts. However, electric golf carts are quieter, and more environmentally friendly. Luca Crimi (10) explained "I prefer gas golf carts over electric golf carts because of their speed." However, Luca also said that golf carts are very loud, and "You sometimes have to yell to hear each other." Sam Skaggs (11), touched on the convenience of gas golf carts compared to electric, stating that "it runs faster and doesn't require constant charging." Imad Bakkali (12) is another student that uses gas golf carts. He articulated that "Gas golf carts are pretty fast and easy to use and drive, however it is very loud and contributes to pollution. #Savetheturtles." Imad also added that gas golf carts are "Fast, easy to use, and don't require electric charging." Overall, interviewees seem to have their positives and negatives about gas golf carts. Many enjoy the increased speed compared to electric golf carts, and the convenience of not having to constantly re-charge it. However, their excessive noise and contribution to environmental detriment is a concern for many.
Electric Golf Carts:
The other main type of golf cart known in Nichada is the electric. Electric golf carts are predominantly quieter, and many people believe it is a much smoother ride in comparison to gas golf carts. However, the speed, or lack of it, as well as the inconvenience of charging them consistently (2 or 3 times each week)  are two aspects that seem to be a hassle for Nichada community members. Giselle Yan (12), has owned both gas and electric golf carts, and explained that "Electric golf carts are better for the environment, but they are annoying to charge." Giselle prefers the gas golf cart over electric golf carts, despite the fact that they're "bad for the environment.". CJ Armitage (12) also drives an electric golf cart. When asked what he liked about electric golf carts, CJ explained that "They are quieter, easier to maintain and better for the environment." Although he understands that electric golf carts are considerably slower than gas golf carts, CJ still prefers electric golf carts. Overall, electric golf carts are much quieter than gas golf carts, essentially meaning that it is a smoother ride. Additionally, they are more eco-friendly than gas golf carts, which is why many students like them.
In general, it is fair to say that gas and electric golf carts both have their benefits and disadvantages, and are pretty evenly liked amongst the ISB student body. Judging by the responses collected, it seems that there is no clear favorite between the two, but in fact aspects of both that are based off of value and preference. If you prefer a faster, more convenient ride, then consider a gas golf cart. However, if you are environmentally conscious, and enjoy quieter, smoother rides, then considering an electric golf cart would be more in your interest.