Long Talk – Ms. Redmond
May 8, 2019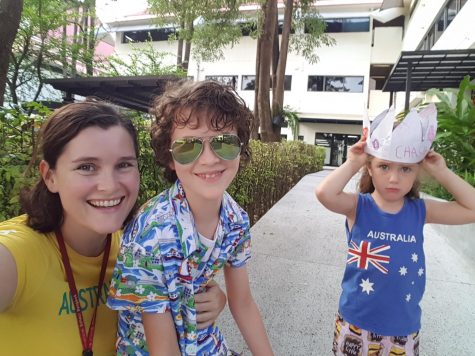 It's coming to the end of another school year, and as always we have to say goodbye to some of our teachers here at ISB. As part of on ongoing series, PantherNation sits down with departing staff to get their thoughts on their time on ISB, and where they are going next.
Ms Redmond teaches english and intensive studies from grades 9-12 here at ISB. She has been here at ISB for 8 years, and has has been an active part of the community, working with clubs such as Riding For The Disabled and Traffic Jam. Additionally, Ms. Redmond has worked with the yearbook committee for the past 2 years, as well as being a StuCo advisor over the years.

What is your favorite part about being a teacher at ISB?
The students! I've met and worked with so many great students during my past 8 years at ISB.
Where are you going and what are you doing after ISB?
I'm moving to Switzerland where I'll be the Head of Learning Support at the International School of Zug and Luzern.
What is your favorite memory of ISB?
Graduation every year is special, but in 2018 and 2014 I saw two students graduate who had to fight every step of the way to get there. Watching those kids walk across the stage in their cap and gown brings a tear to my eye every year!
What is your most memorable accomplishment at ISB?
Can I have two?! 1. Creating the system of student-led Individual Education Plan (IEP) meetings as a procedure for High School Learning Support. These days are so valuable for students and teachers alike, providing constructive conversations about student learning and building relationships between students and their teachers. 2. The establishment of English 11/12 as a stand-alone English class, providing an option for non-IB students that is practical, skills based and fun!
What advice would you give students?
Don't fixate on what's next and forget to enjoy what's right here and now.
We are sad to see Ms. Redmond go, and we wish her luck in her new beginning in Switzerland. In her 8 years at ISB, she has played many roles, from teaching to working with clubs to helping manage StuCo. Ms. Redmond has made a great impact on ISB and its students, and we are sure that she will carry that same positive influence as she moves to Switzerland.