Ariana Grande's Tattoo Gone Wrong
February 8, 2019
Tattoos are one of the most beautiful ways to express yourself — they are a form of art that you decide to engrave on your body with ink. Although it does come with some cons, it might be the pain, the money it costs, the fading but something worse than that is getting a tattoo that is nothing close to what you wanted.
Our girl Ariana Grande has done it again. Ariana has a lot of tattoos and recently she has been in the limelight for her single "thank u,next" which was immensely popular mainly because Ariana mentioned all of her ex-boyfriends in the song, causing the audience to go crazy. . Well it doesn't end there. Ariana released a song on January 18th, 2019 called "7 rings" that got a lot of backlash too because of a line that says "you like my hair? Gee thanks just bought it." While the line was intended to be a harmless reference to Grande's hair extensions, some listeners connected this controversial lyric to women who are marginalized for their hair. In response to the public, Grande did what many artists in the past have done and capitalized on her ponytail with the line, "You like my hair? Gee, thanks! Just bought it."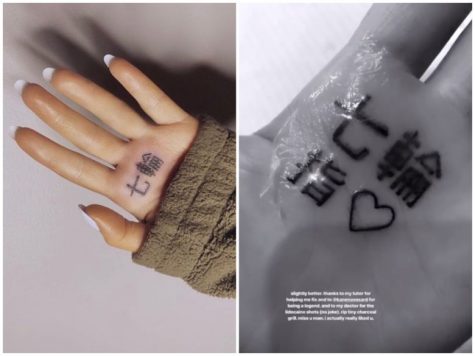 But, anyways, this is not the point. After her breakup with Pete Davidson, she covered up a tattoo that she got for Pete's dad who died in the unfortunate attacks of 9/11. After "7 rings" was released, she got a tattoo for the song on her palm of what  she thought said 7 rings in Japanese, but she thought wrong. After she posted about it, Ariana's fans immediately started commenting and dm'ing her saying that her tattoo actually meant "BBQ grill". Afterwards, Ariana addressed the issue and went to get it fixed but that, just as before, did not go according to plan. Even after getting it fixed her tattoo instead meant "Japanese BBQ finger". After all this, it's safe to say that Ariana should definitely sue her Japanese tutor or maybe she should just get a tattoo in the language she is familiar with.
Would you get a tattoo in a language you are not familiar with? What do you think of Ariana's mistake? Comment down below!