Pre-IASAS Soccer
October 17, 2018
With IASAS dominating the future, players are pushing themselves to fulfil their roles. The Soccer teams have been working hard and are ready to fight for the gold.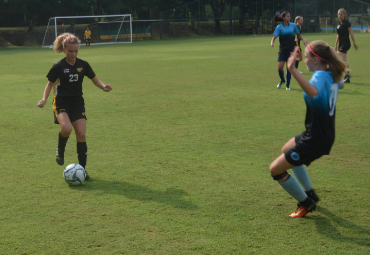 The girls' soccer team has lots of potential and skill this year. They are coming off a disappointing finish last year, with the game being canceled due to weather and Singapore beating them for third through seeding. However, Sydney Segura (12) says, "this year, the team is stronger than ever and we are hoping to medal in IASAS. The team chemistry is amazing and we are all excited to work hard and have fun with each other!"
Being the back-to-back champions of IASAS can be stressful, and this group is eager to make it a hat trick. Coach Speirs says that the boys will be working hard on their defense and quickness and wishes all other teams good luck in their tournaments. Also, Guy Thampakkul (12) adds, "this year we have a lot of very young, but also some experienced players as well. We started off slower than usual, but the team has really came together by working hard and having fun and we hope to continue the success of the past couple years."
We wish the soccer teams good luck, and know they will make ISB proud! Go Panthers!