Pre-IASAS Volleyball
October 17, 2018
With IASAS looming, players are pushing themselves to the limits in preparation. The volleyball teams have been training hard and feel ready to take on the big stage.
The girls volleyball team has been working their hardest, and with a young team are looking strong for the coming years. Camaraderie is high and only gets better each day. Coach Barnes (Mrs.) said in an interview, "[It has] been a really fun season with an amazing bunch of athletes and, regardless of results as IASAS, we have all grown as players and people."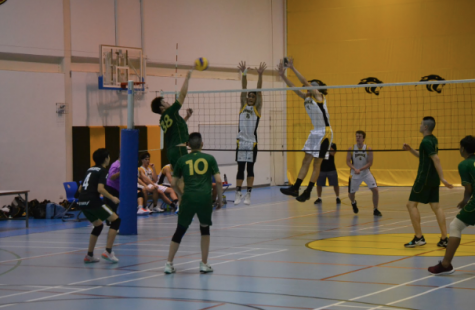 The Boys volleyball team this year is a strong a versatile team that has strength over the whole spectrum of play. Captain Lucas Wilson (11) said "This year, all but one of our players will be returning IASAS athletes who understand how IASAS works and know the competition we will be expecting. Good luck to all the other IASAS teams." Coach Stephenson also said "This year the team is a again a great bunch of boys that will make the other teams sit up and take notice.  They will fight until the end.
Good luck to all the IASAS teams and have fun!