Everything on Logan Paul and KSI's Fight
September 24, 2018
As most YouTube followers probably know, on August 25th, London hosted a boxing match including two of the biggest YouTubers of this generation. The both of them, KSI and Logan Paul currently both have over 10 million subscribers, nearly reaching that 20 million mark. Obviously, both are successful and create a lot of other content based on their daily lives. About a week after KSI's first fight with Joe Weller (another major Youtuber), Joe paid his respects to KSI after his loss. He said that KSI deserved the win in a video that he made called "My Response To The Fight", "I just wanna start by saying JJ, Congratulations to you and your team, you fairly deserved that win" and "enjoy it, you've earned it."  Right after the fight, KSI called out Logan for a fight, and Logan responded with a video accepting. They both posted videos calling one another awful things, which attracted a lot of attention.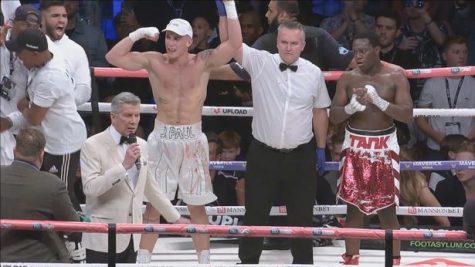 Adding on, another 2 major YouTubers ComedyShortsGamer (KSI's Brother) and Jake Paul (Logan Paul's Brother) are also having a boxing match on the same day as their brothers. Jake Paul ended up taking the belt home. People showed respect towards Deji after giving a hard fight not as expected.
A couple of days before the fight, the 4 YouTubers all announced that to watch the video live, you have to pay $10 and any person trying to stream the fight would get taken down.  Over 800,000 people paid to watch the fight. After a great close fight between the two it ended with a tie. Since that, there have been rumors that it was planned for a tie beforehand. Millions of people started to complain saying it was rigged. Less than a few hours after, they announced that there will be a rematch taking place in the U.S. There was another rumor that the fight that took place went to the brits, KSI and Deji. For the fight taking place in the U.S, the Pauls will get credit for all the money paid to watch a live video of the rematch.
Surprisingly Jake Paul and Logan Paul quoted in their videos that they were surprised by how KSI and Deji gave such a good fight. "I was gassed, he almost finished me. I was just trying to stay alive in the fight," said Logan Paul. But, KSI and Deji striked back and kept saying bad things about the Pauls. Deji responded after the fight with a tweet, "This isn't the end, I'll be back."
"
I was gassed, He almost finished me, I was just trying to stay alive in the fight."
— Logan Paul
To conclude, this fight brought heavy attention towards the YouTube community. At the end of the day, both fighters walked out successful, and the rematch will only give them more attention, which is exactly what the 4 Individuals wanted