World Cup Participants finalized – several notable teams excluded
The 32 teams that will participate in Russia's 2018 world cup in June and July have now been set, but there is significantly less star power than in years past.
November 30, 2017
The FIFA World Cup is one of the most highly anticipated sporting events in the world, and it only happens once every four years.
Recently, the 32 teams that would compete in the World Cup in Russia 2018 were finalized after a long and controversial qualifying round that saw several notable teams miss out on a spot.
Among these teams were Italy, Netherlands, Chile, Wales, and the United States. According to FIFA's World Rankings, all of these teams are among the top 27.
Because of this, star players such as Alexis Sanchez (Chile), Gareth Bale (Wales), Gigi Buffon (Italy), Miralem Pjanic (Bosnia), Arjen Robben (Netherlands) and David Alaba (Austria) will all miss out on participating in the World Cup.
Some argue that the World Cup qualifying process can sometimes be unfair to certain teams, depending on the division they are put in and the teams they have to face.
Each continent/area is given a certain amount of spots that they award to their strongest teams. Europe, for example can offer 13 births. The specific selection process varies from area to area. After 872 matches with 211 different teams, the qualifying teams were set.
The following photo shows each of the qualifying teams for the Russia World Cup, which will take place from June 14 to July 15 in 2018.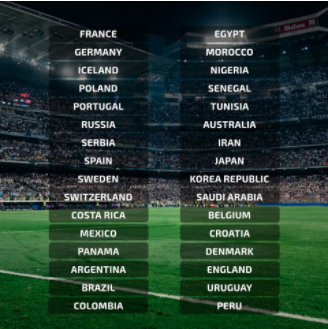 Some high schoolers around the school were asked about their thoughts.
Jonathan Tostevin (10) thinks that "teams like the US and Italy are overrated. When they play teams like Sweden or Trinidad and Tobago, they are too overconfident." He will miss teams like Italy because they have been a constant fixture in the World Cup, but will not miss the US because "they suck. I will be supporting Nigeria and France, as I have lost faith in my home country England. I predict Germany, Belgium or France to win."
Justin Shain (10) has come to expect inconsistency from some of the world's top football clubs, which explains how teams like Italy and Netherlands will not get to participate. However, "it won't make the world cup less enjoyable because it does not really matter which countries are in the cup, but the football that is being played. I think Belgium will win."
David Lim (11) feels sad that some football teams with "rich football histories will miss out on this event," but does not think the World Cup will be any less enjoyable. He looks forward to "seeing how well some of the new teams will perform." He predicts Belgium will win.
Bryce McWhorter (12) was disappointed that teams like the US would not be playing. "It is a shame that I will not be able to support my home country, but the world cup is still awesome, regardless of who is playing." He will be cheering on Iceland.
While many star players will be absent, the World Cup should still be a fun event to watch, shortly after the school year ends. Who do you think will win the World Cup? Be sure to share your opinions down below in the comments!
Craig Dawe