Long Talk: Ms. O'Rourke
May 18, 2020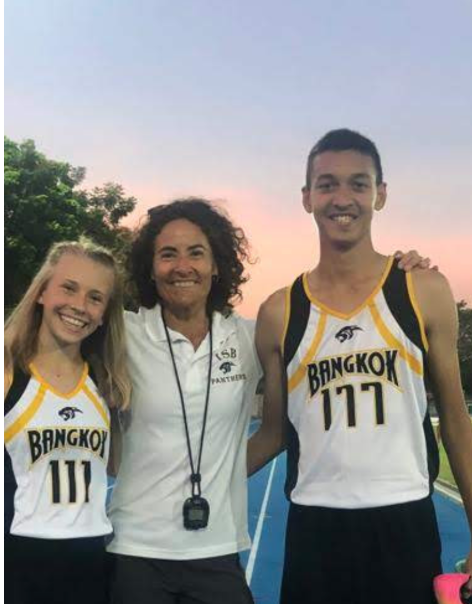 "It's going to be super tough to leave Thailand and ISB, but I know it'll be in my heart for life!  I have so many great memories here – wow!."
What is your position at ISB and how many years have you been here?
I've been teaching PE & Health in the high school here for 7 years.  I've coached Varsity T&F every single year, as well as Varsity Girls soccer and JV girls volleyball
What is the next destination in your life?
I'm heading to the American School of the Hague (ASH) in the Netherlands where I'll be teaching PE & Health.  
Why did you decide to go there?
It's always such a tough decision when trying to decide about your next big life adventure.  There are so many amazing things about living and working here in Thailand but 1 drawback for me is that it's also very far from home & my family.  So, ASH fit the bill in terms of location, but also it has an excellent reputation on the international scene and since I've never lived in Europe before I thought ….. why not?  During the interview process I got an excellent vibe from the people with whom I talked, and I'm excited about the future vision of the school.  I'm lucky to have a couple of friends who work there already and they all had really good things to say.   I think it'll be quite a cool place to live too 🙂
Looking back on your time at ISB, what memories and feelings will you take away from here?
Thailand will always have a warm spot in my heart!!  Whenever I leave for the summer, it always feels like home when I return.  I will miss the true warmth, positivity and spirituality of the Thai people.  I'll miss being able to jet away to the most gorgeous beaches and other amazing locations  at the drop of a hat.  I absolutely love the beauty of the tropical greenery & flowers and I'll really miss watching & listening to the epic  thunderstorms that roll in.  Above all else though, I'll dearly miss my friends and colleagues, many of whom have become my family over here (I'm getting a lump in my throat as I type this answer).  And…. ISB students are amazing!!!!!   Seriously some of the most amazing young people I've ever had the pleasure of teaching and coaching!  T&F  IASAS…. my most favourite coaching moments ever.   Thank you for the memories….. 
What final thoughts or advice would you like to leave with the students/ athletes of ISB as you depart? 
Don't be afraid to take risks and put yourself out there, because that's where you'll grow.  
Don't take the easy route – It's OK to make mistakes. 
The harder your work for it, the more you'll appreciate it. 
Don't regret not trying something  – just get out there and do it.  
Appreciate all that you have and make your relationships a priority, because it's the people you'll remember more than anything else. 
"There's so much more that I can say.  I have LOVED my time here and I'm already looking forward to coming back to visit."Ms O'rourke has taught me so much, on the track and in the classroom she is always encouraging and kind. The ISB T&F team especially can credit some of the best teaching moments to her! We will miss her alot and love her so much!