Fitness In The Time Of Corona!
4 Ways To Stay Fit During Social Distancing
May 5, 2020
With most places to visit like malls, restaurants and many public areas closed due to the COVID-19, many people are finding new and different things to do in their free time. What many athletes (also teachers and parents) need to do during this time is to stay fit. With school and almost every gym around closed for this time, we have to find new ways to stay fit. In this article, I will talk about 4 workout ideas to do with minimum to no equipment here in Nichada, or at home.
#1: Go on a run 
Equipment: None
Probably the easiest and most effective way to stay fit during time is to go for a run around the lake, to Villa and back etc. Since there is no official quarantine time in Nichada, you can go for a run whenever you want to. Around sunset, many teachers and parents are seen to be walking around the lake with their dog, their family, or just by themselves. An easy 20 min jog throughout Nichada could benefit a lot and keep your fitness up with upcoming sports in season 1. So, lace up with your running shoes, grab a partner and run!
#2:  Deck of Cards workout
Equipment: Deck of cards and space
This workout was given by Cory Campopiano, ISB's physiotherapist. It is a bit of fun as it does require luck. Here's how to do it: 
Take a standard deck of cards including the jokers and have each suit assigned one of the below exercises:
–       Push-ups
–       Burpees
–       Lunges
–       Squats
 Shuffle the deck and turn over the first card and do exercise for the number of reps indicated by the card (example 8 pushups for the 8 of spades). Once completed, discard that card and draw the next card off the top of the deck; repeat until you've completed the entire deck. Jokers are a 60 second plank, face cards are 12 reps, and aces are 13 reps.
#3: Bodyweight 54321 Session
Another exercise given by Cory and is good for the whole body. It does take time to complete but when done properly, it is very satasfacionary to finish, trust me. Here's how it goes.
5 core exercises:
Plank jacks; plank then hop feet out like a jumping jack
Hip Lifts
Flutter kicks
Bicycle sit up
Reverse Crunch
5 Bodyweight exercise:
Burpees
Squats
Push ups
Lunges
Mountain Climbers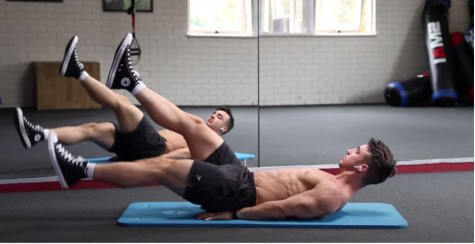 Start off by completing the first set, which is doing all 5 core exercises and the 5 bodyweight ones. Remove an exercise from each column at the end of each set of exercises so the next set would have 4 core exercises and 4 bodyweight exercises, then 3 of each, then 2, then 1. 50 seconds for each exercise and then 10 seconds of rest before beginning the next exercise. 1 minute rests between each set. 
Online resources workouts
Equipement: Youtube and space.
With technology being a major factor in our lives these days, a lot of resources can be found online. There are videos such as Les Mills Body Combat & Body Jam workouts, P90 Pure Cardio, Insanity fitness test. These all include workouts such as Power Jacks, Globe Jumps, Plank obliques and more. A good feature in these videos is that you can follow along with them. You don't have to make your own plan and time yourself, you can just play the video and follow the workouts. 
Fraser Wilson is also a good online resource for workout. He has some good workouts to do for specific body parts that don't require a gym to go to. 
  As we all know, staying fit and balancing our social and athletic life is key. It is not good to stay inside and be on social media the whole day whereas it is also not good to be working out everyday (Your body needs a break). I, for one, have been trying to stay fit as much as I can during this time. I have been going for runs, jump roping and doing the PE workouts given. I have also seen Ms.O'Rourke around the lake running or walking with other teachers and staff. So, hopefully this article has helped you find workouts to do. Other than staying safe and staying clean, play your music, find some time and stay fit.