IASAS Dance Recap 2020
March 30, 2020
This year's IASAS Cultural Convention was one filled with smiles, fun and, unfortunately, a bit of flurry. Due to the cancellation of IASAS CC as a result of the coronavirus, ISB came together to create its own IASAS which combined Dance, Drama, Tech, Forensics, Debate, and Music. Other IASAS schools joined in by meeting virtually to share performances, feedback and competition. Deemed one of ISB's prominent arts, this year's IASAS dance team showed off their talent during the three day Cultural Convention.
Meant initially to travel to Singapore, the dance team had to work around the cancellation of IASAS. Having worked on the piece since December, and having practised five days a week from 3:15 pm-5:00 pm, it was inevitably a blow for the dancers when they heard the news. Emily Merritt (11) shared her thoughts, saying that "it'd be an understatement to say we were a little disappointed." However, the dance team didn't allow that to bring their spirits down, as Jenna Jokhani (10) adds that performing at home has allowed the team to "receive so much support from the ISB community."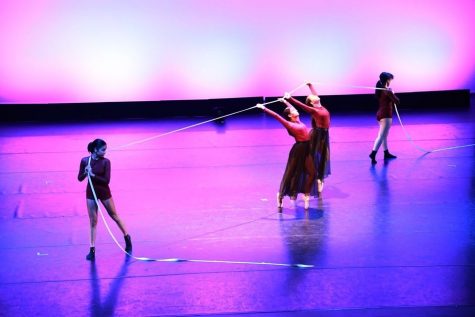 Dance is remarkable in how it enables the performer to convey their emotions and feelings through movement. The 20-minute piece this year, named '(Dis)array,' was based on the relationship between order, simplicity and chaos. Jenna shares that they wanted to be able to "represent all the styles of the dancers on the team," whether it be jazz, contemporary or ballet. In dance, each movement is significant and represents something important. To ensure this, Emily says that the team "develop[s] the theme, general sections, the overall tone progression at the very beginning of the season, and design [their] movement to reflect that story." 
Due to the rough season, the team has become incredibly close and have bonded together very well. The team's dance teacher Ms. Jaleea Price says that "this year's team is incredible! They're an impressive mixture of different grades, creative ideas, and techniques all brought together by strong leadership." According to Jenna, this season's dance captains Anatta Tantiwongse (12) and Sierra Hartman (12) have "allowed [them] to all express [themselves] in the piece perfectly." Alongside this, Ms. Price shared her feelings about the final performance; "I was really happy with the final performances they gave, despite the 2-week break in February. The whole team pulled together in their technique and energy amidst a flurry of changing schedules and unknowns. I was proud of them as a whole artistic ensemble."
The dancers are excited for next year's IASAS CC and are ready to show the other schools what they've got in a, hopefully, nonvirtual IASAS.