Season 3 IASAS Cancellation
March 12, 2020
As all of you know by now, all season 3 IASAS sports have been cancelled due to the current worldwide case of coronavirus. All of the athletes are very saddened by this decision, as for the past few weeks, they have worked tirelessly for the season 3 IASAS. I asked the athletes some questions about their view on this decision. Here are the responses from Shahmeer Danish(10), Natalia Yepes(10) and Imad Bakkali(12):
Question 1: How would you describe the anticipation leading up to this news?
Shahmeer: I feel as if all of us saw it coming but still had hope leading up to the moment when our coaches had informed us that we will not be traveling for IASAS. We were all rather worried for this announcement, as our team is mainly seniors, due to the fact that this decision meant that they had to miss their last IASAS.
Natalia: To be honest, the rumors about a possible super-IASAS in Jakarta were exciting and sparked some hope amongst the team, but I know that almost everybody knew it was unrealistic, so I don't think there was any surprise when IASAS officially got canceled.
Imad: Nobody knew what to expect. Everyone had different opinions, some people were certain that it was going to get cancelled and some people still had hope.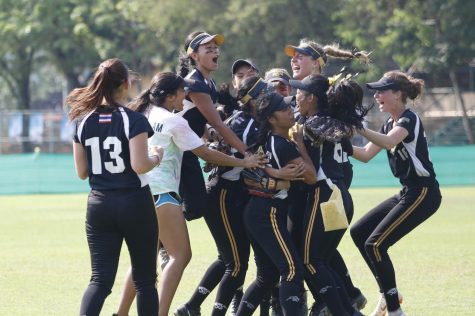 Question 2: Did you expect this to happen?
Shahmeer: Yes we all saw it coming after TAS had pulled all of their teams out of season 3 IASAS.
Natalia: I don't think there was any surprise when IASAS officially got canceled.
Imad: When I heard about IASAS being cancelled, I wasn't surprised but I was definitely disappointed and upset.
Question 3: How do you personally feel about the cancellation of all Season 3 Sports?
Shahmeer: I am obviously very disappointed, as we had a very solid team this season and we potentially could've brought home the gold medal.
Natalia: I completely understand why IASAS was canceled, and I do think it was the right decision, but I am still pretty upset about it. I think I'm especially sad because it was supposed to be my last IASAS and having it be canceled was definitely a disappointment. I also feel bad for all the seniors as well, and for all the athletes who were training hard for the upcoming IASAS.
Imad: It's honestly de-motivating to all the athletes because not only is IASAS cancelled but even the local games and tournaments have been cancelled too. Being a senior, I had high hopes for my last IASAS ever but now I won't be able to compete. 
As we all can see, the athletes are very saddened by this decision, but fully understand and respect why it was made. Even though only Virtual IASAS is on the radar at the moment, athletes are extremely excited to still be able to compete, and maybe cross over to some of the other Season 3 sports.