IASAS Basketball Recap
February 13, 2020
This year's IASAS basketball, hosted in Jakarta, was definitely a rollercoaster of emotions for both the players and the fans watching. Every game seemed up for grabs, with some games coming down to the final possession. 
The girls finished in a successful second place, upsetting powerhouse Taipei in the semi-finals to advance to the finals again SAS. Angel Enfinger (9), a freshmen, who also won all-tournament in the first IASAS, thinks that, "Personally I'm really proud of our team being predominantly underclassmen. We upset TAS in the semi-finals. When we got to the finals we were so tired. I'm really proud of our team and can't wait for next year!" 
Angel is definitely incredibly proud of her team, and can't wait for IASAS next year where she hopes her team can secure that gold medal.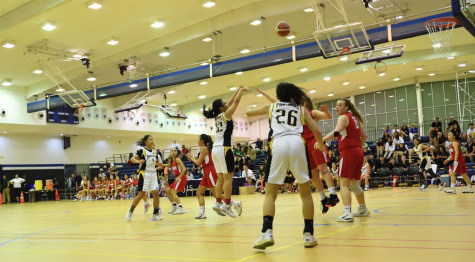 Another all-tournament winner, Nina Pant(10), has been reflecting on the past IASAS, and has said that, "Many factors contributed to our teams success in finishing second place, however I think there are 2 main factors that made us successful in this IASAS which was our determination to win and our defense. A very important game, was the semi-finals against TAS.  The day before, we had lost to this team by 16 points in a tough game. We have always lost to this team in previous years as they are always a super strong steam. They were the #1 seed and we were the #4 seed. We all felt like we had the potential and skills to beat them, so we were very determined to beat them the second time ." 
Nina is immensely proud  of all her teammates, and is determined to get her hands on the gold medal next year in Taipei.
Coach Jill Miller, who has coached the Varsity girls basketball team for many years now, feels that,  "Our team kept battling all tournament long. It took playing together, adapting to situations, and making plays, defensive stops, and shots when we needed to. I am very proud of this team. We recognize that we are young (no seniors on the team), but we also want to recognize that we are talented, work hard, and enjoy the game of basketball. In the end, we are successful because we learned something about ourselves and what it means to be part of a team and work towards a common goal ." 
Coach Miller is exceptionally happy with the way her team has performed, and is already counting down the days to IASAS next year, where she, and the rest of the team hopes that they can win their first gold medal in many years.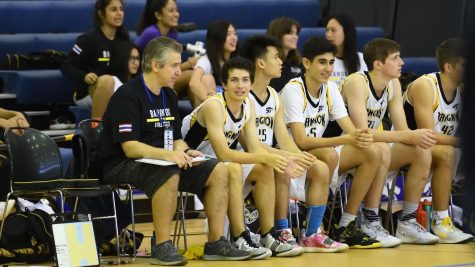 The boys had a rough end to the season, with finishing in 5th place in Jakarta. Ismael Benmoussa(10), who has just come out of his first IASAS, thinks that, " I feel that we were a much better team than our placing depicts. At exchange, we beat ISM (Champions), and competed with ISKL, who eventually came third. I feel that playing Manila and Singapore, who were clearly the two best teams, on the first day somewhat demoralized us, and we lost momentum. We had a tight game with Taipei to potentially advance to the semis, and so I think we were much closer to our goals than the placing shows. I feel that we definitely could have done better, considering the work we put in and how well we did in previous tournaments." 
Lucas Wilson (12), who won the all-tournament award for the boys team, has said that, "We were a team with only 4 out of 12 returning IASAS players. Majority of our players were sophomores and juniors experiencing Varsity level for the first time. Although we finished 5th I feel that we were playing good quality basketball by the end of our iasas tournament. We were playing at a much higher level than we started at. Overall the team showed massive amounts of improvement and I'm glad I was able to spend my last basketball iasas with them."
Lucas reflects positively on this past IASAS for the boys, and was incredibly happy to be able to play in his last IASAS with this team.
Coach Derrick Quinet, who has been the coach of the Varsity Boys team for 3 years, thinks that, " All 6 IASAS teams were very closely knit in terms of skill. We went into IASAS looking to play the best basketball we could play, and that's what we did. Our last 2 games were the best games we have played all year, winning the 5th place game in a packed gym against Jakarta, which was probably the best game the boys have ever played together. I feel like on another day, the results could've been very different, as the teams were so close together skill-wise."
Coach Quinet is very pleased with his team's performance, and couldn't have asked any more from his boys in his final season coaching ISB basketball.
Overall, both the boys and the girls performed exceptionally in Jakarta, giving their 100% every single game. 
Boys:
1: ISM
2: SAS
3: TAS
4: ISKL
5:

ISB
6: JIS
Girls:
1: SAS
2:

ISB
3: TAS
4: JIS
5: ISM
6: ISKl