IASAS Rugby and Touch Recap
Panther men bring home their first silverware in over a decade!
February 11, 2020
Congratulations to all the season 2 IASAS sports. There were many great achievements that ISB accomplished. This year's IASAS Rugby and Touch Championships were hosted by Singapore American School. After a lot of hard, hot training sessions, both teams went into IASAS with a lot of confidence and ISB spirit. After many hard matches, the Rugby boys snatched a third place spot and their first IASAS medal in over a decade. Touch girls fought hard, with each match ending in tie or a one point loss, and eventually had to settle for 6th place.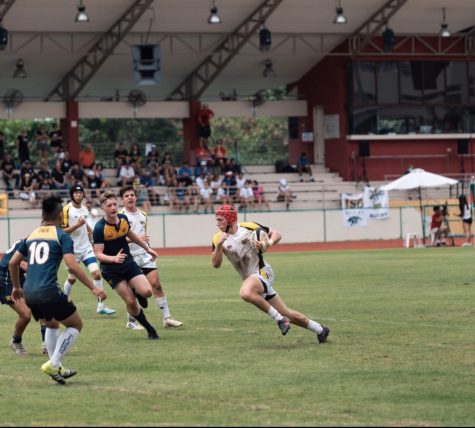 The Rugby boys came into the tournament with many returning players and some new. They arguably became the underdogs after their performance. Thomas Bulow (12, Captain) is very proud of ISB's ranking at the end of the event. "I think our determination and will to succeed is what helped us," Thomas said. "We were definitely one of the smallest teams there, but after tying ISM (tournament favouites) in our first game, the other teams knew they had to watch out for us." One of the key factors that allowed ISB to get a medal after many years is teamwork. They had trained together for 3 months before going to IASAS and it really showed in Singapore. Shahmeer Danish (10) said "The team had developed a strong bond and we were all very aware that IASAS was the place we could show it." 
Determination and sheer will to win and fight is what got ISB a medal. "Everyone stepped up with their aggression on offense and defense, and eventually this helped us beat SAS in the 3rd place game." Thomas said. All the drills practiced in training paid off in the end with ISB winning 19-5, with tries from Pasit Lerkkumsup(12), Kaden Bernhard (12) and Shahmeer Danish. As ISB finished 3rd in IASAS 2020 Rugby, they could hopefully finish stronger next year with the IASAS being at home, here in Bangkok.
Touch girls had a very close tournament. Out of 6 games, they drew 3 of them and lost 2 by only 1 point each. Another statistic that shows how close their tournament was, is that ISB girls had the least tries scored against them, 8, and tournament winners ISM, had next best with 11. Head coach Mr.Vaughan is very proud of his girls defensive efforts. "We are going to look at the finer details for next season now we have our defense sorted and focus on turning our attacking plays into try scoring plays," Coach Vaughan said.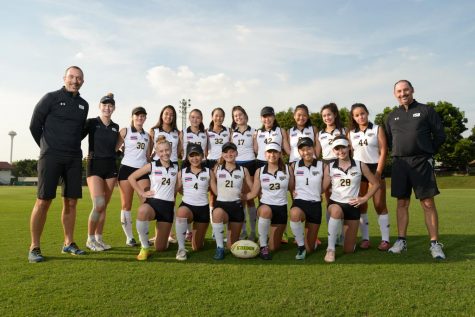 Freshmen Olivia Bates and Ava Ahn found IASAS to be a learning experience.  "We are a young team who learned a lot. With returning players like Natalia Yepes and Pinkie Temcharoen, and a whole bunch of promising freshmen and sophomores, we are looking forward to next year and beyond."
 Coach Vaughan believes that one aspect that made ISB finish in the position they did was that they couldn't get points on the board. "We had great attack lines, but just couldn't get through with our offensive patterns. We are going to look at the finer details for next season now we have our defense sorted and focus on turning our attacking plays into try scoring plays." Since the majority of the teams return next year, the girls will look strong and by improving the offense, IASAS 2021 in Manila could be a one to watch!
Boys Rugby
GOLD: ISM
SILVER: ISKL
BRONZE: ISB
4th: SAS
5th: TAS
6th: JIS
Girls Touch
GOLD: ISM
SILVER: SAS
BRONZE: TAS
4th: JIS
5th: ISKL
6th: ISB