GCW: Changes from the past, for the future
How GCW has changed over the years and new plans for the future
February 4, 2020
This morning, information came out about the new GCW policies for next year. Service involvement, time of year and placement are big parts of the changes for 2020-2021 GCW. While looking forward, it's important to see where GCW has come from, and see all the improvements that are being made.
Week Without Walls, or WWW as the students called it. About 13 years ago, this was changed to GCW (Global Citizen Week). It included trips to Russia, Iceland, Turkey, and Italy that were based upon cultural experiences, and not service opportunities. Now, in 2020, GCW is becoming more focused on service closer to us in Asia, and with the newly implemented changes for next year, GCW is following ISB's vision and attributes. Panther Nation has asked teachers who have been at ISB for a long time, to voice the differences between now and back then. Mr. Vaughan has also shared his insight on the changes for GCW for the future.
Mr. Duffy, an English teacher in high school, has been teaching at ISB since 2001. He noticed that GCW "has become much more 'service-oriented'" as back then, WWW "felt more like a tourist kind of trip". Mr. Macky, a high school math teacher, has been at ISB since 1997 and has taken part in countless GCW's, all over the world. He added that GCW now focuses "on attributes of Global citizenship instead of other types of learning". The other major difference, other than becoming more service-oriented, are the destinations of the trip. Instead of being restricted to only Asia, students on WWW traveled to Europe, the Americas and more. However, because of the longer plane flights, more expensive destinations, and less service-oriented activities, costs were much higher for families.
Earlier this morning, the new GCW plans were shared with the entire High School. Here is the rundown of all of the changes.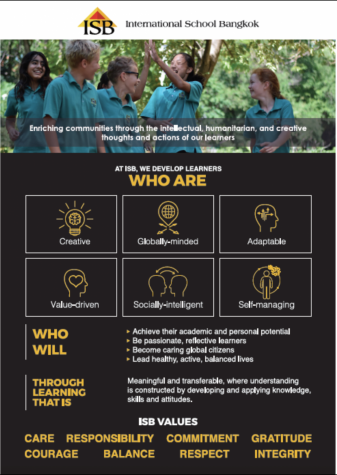 As ISB changed its vision and mission, a GCW review team met and decided to change GCW to better fit this vision. An appropriate list of new attributes for GCW to better fit the school's attributes are below.
6 different attributes/new vision
Respond appropriately and with flexibility to ambiguous or changing circumstances.

Develop new ideas that have impact.

Invest in the world and its people, embrace diversity and be aware of the impact of actions on local and global communities.

Independently direct, monitor, and evaluate personal behaviors, goals and time.

Recognize personal emotions and those of others, manage responses productively and collaborate effectively

Are guided by our ISB Values, promoting positive citizenship and fostering personal meaning. 
Another change is the shift to more service-oriented trips, swaying away from the culturally based ones. As part of ISB's mission is to 'Enrich communities through…humanitarian…thoughts and actions', GCW trips are aimed at Thailand, making sure for next year that 3/4 of the trips are in Thailand, compared to the 2/3 this year. This limits the flights to around 6 hours, reducing the costs of the trips, which in the past have been a challenge to some families. To be more environmentally friendly, ISB is also looking for different means of transportation, such as trains. As the trips are going to be in the closer South East Asia region, certain trips such as Oman and Borneo, which are purely cultural, will not continue next year. However, service aspects are being added to some cultural trips so that they can be continued such as Bhutan. Many more trips around Thailand and the region are being added to incorporate more service opportunities. This makes sure that students are more involved with their immediate community, and can give back to the people and the environment around them.
Many students choose their trips based upon their friend groups, and others in their grade. However in a move to make the high school as a whole, more integrated, the 'first come first served' rule for seniors, and upperclassmen is being withdrawn. While administrators are trying to find a suitable way to decide which students gon on which trips, they are still open to suggestions.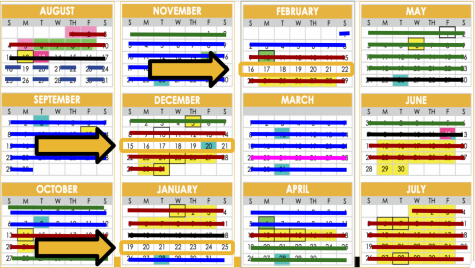 Due to the newly added week-long February Break after GCW, as well as Cultural Convention, IASAS and ISA testing, the month of February has very little school time and is disruptive for many classes as well as preparation for IB Mock exams. Next year, GCW is being moved to the last week in December, ensuring that students don't need to stress about homework, projects or tests afterward. Leaving as early as Friday December 11th, after school, all trips will be back by 11:30 am on the last day of the semester (December 18th). Seniors might have a little trouble submitting their college applications, however, administrators and college counselors are working hard making sure that the process will be easy.
So that students have access to their college counselors, the counselors will not be on a GCW and will be available the Saturdays prior and after the GCW week. If some seniors still need more help and time for their applications, a new 'trip' called the 'GCW College App Course' would be beneficial to them. This course is time for students to work in the library all five days of the GCW week. Seniors can also choose local Bangkok trips, which is why more are being offered in the following years. To those still skeptical about this change, International School Manila has also been having their trips the last week of the semester for the past 10 years, and they have been successful with no obvious issues.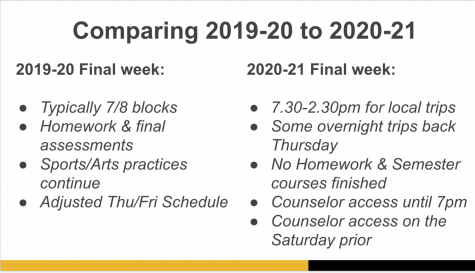 In showing what the last week of the first semester in the following year will look like, here is a comparison between 2019-2020 and 2020-2021:
All in all, these changes are better for both the students and the teachers of High School. Enabling more mixture between grades allows for a larger bond between the high school community and adding more service opportunities provides students chances to help others. The change to December also helps those in the IB for their preparation for the Mock exams, and it makes sure there are more school days in February. The timing also doesn't conflict with IASAS, Cultural Convention, and other tests during that month. These improvements for the next year might be under criticism, however, it is important to not judge the changes before experiencing them.