Hong Kong: A City Torn By Riots
A Timeline Of How Hong Kong's Protests Have Escalated
December 9, 2019
Hong Kong, one of Asia's biggest metropolis cities, has been an expat hub for decades now. It's rich economy, large international community and safeness, historically speaking, has made it one of the friendliest cities for both locals and immigrant expats. After gaining independence from British rule in 1997, Hong Kong has been a democratic country for just over two decades. However, this metropolis has recently turn into a war zone. From police throwing teargas into universities and firing live rounds at protestors, to the famous black shirt marches that enclosed a substantial amount of downtown Hong Kong, here's all you need to know about the escalation of violence in the city I used to call home.
On April 3rd, Hong Kong legislation announced a plan for criminal suspects in Hong Kong to potentially be extradited in China. Expert critics warned the government that Hong Kong's general population would largely oppose this law, due to the lessened protection of many freedom rights in China, as well as their much harsher conviction rates compared to that of Hong Kong. This sparked outrage in citizens, who quickly took to the streets to protest their beliefs.
On June 9th, an estimated one million citizens of Hong Kong took to the streets, marching and protesting in fight for their freedom. This protest,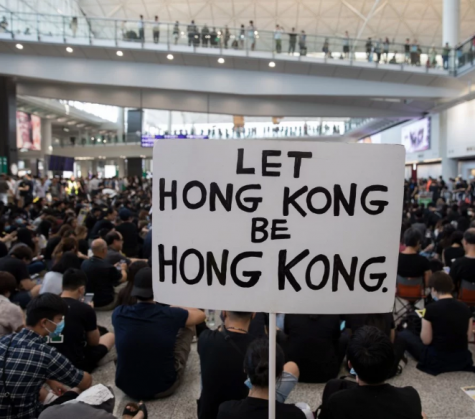 which was largely peaceful at first, occupied the streets of Wan Chai, Central and Causeway Bay, some of the large economic areas of Hong Kong. This, however, quickly escalated, as one June 12th, in which police were forced to retaliate to this protest, firing tear gas and rubber bullets at citizens. This was a shock to the city, as it was depicted as the most violence Hong Kong had seen in decades. 
Protesters were partially rewarded on June 15, as Chief Executive Carrie Lam delayed the extradition bill. Although this decision was in favor of the protestor's beliefs, it sparked a continuous cycle of greed, in which protestor's continued to demand more. Just one day after Carrie Lam's decision, on June 16th, citizens took the streets again. This time, however, the population demanded the bill be withdrawn completely, as well as petitioning for Lam's resignment from office.
Throughout July, protests remained fairly constant. Carrie Lam continued to urge citizens to refrain from protesting, claiming that the extradition bill had been terminated. However, the riots escalated in August, and it was made clear that protest were no longer focused on the bill. Hong Kong has been a free state since it's release from English rule, and has been largely autonomous over the last two decades. Through the month of August, police became increasingly aggressive, asserting their power with non-lethal products, and storming public areas such as enclosed train stations and even the airport. 
On September 4th, Carrie Lam fully withdrew the bill, amidst raging protests. In an attempt to ease tension, Lam's announcement was relatively successful. Her decision was followed by a riot-free weekend. However, this didn't last long. Protestor's continued to take to the streets, demonstrating for amnesty for all arrested protestors, suffrage in political elections and more. Their unrest naturally led to increasing police brutality. Many citizens took to social media, criticizing the police for their acts of 'terrorism'.
October opened with Hong Kong's National Day, where people continued to protest their democratic beliefs. This caused police backlash, as officers fired 'warning shots' to deter rioting. Throughout the rest of October, protests expanded through all of Hong Kong, with local MTR stations continuing to be closed, and many public areas were overpopulated with demonstrators. Since then, demonstrators and police resistance has only gotten more vigorous. From police trapping students in the Polytechnic University, to live rounds being fired by police, to local and international schools being forced to close several times, Hong Kong has continued to be riot-torn by new laws that would introduce China as the sole controller of Hong Kong's now democratic government.