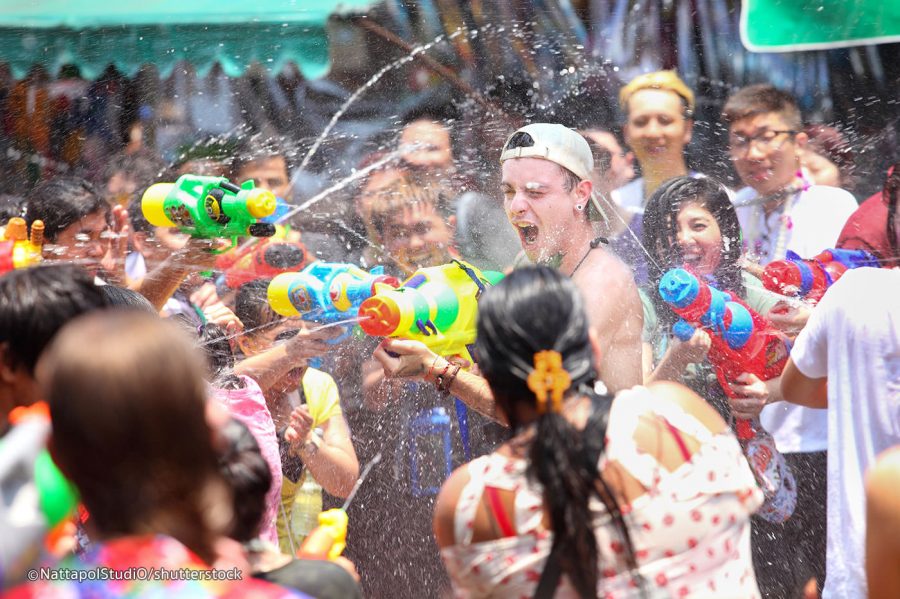 Songkran is a traditional Thai New Year ceremony from April 13th through the 15th, informally called the Thailand Water Festival. This is the period of the year that most Thai people are looking forward to not only because it is a long holiday, but also because it is a time for homecoming and reunion with families. Songkran is a festival where people splash water on each other with buckets and water guns on the streets, and was even nominated as "The Largest Water Gun Fight In The World'' in the Guinness World Records 2011!
If you are a new resident in Thailand, you might think you're living in a crazy country. Of course, it's not easy to say that spraying tons of water all over the place splashing strangers around you is not that crazy. As a matter of fact, it used to be less crazy in the old days. Originally, Songkran was a ceremony to wish for plenty of rain in the next year by collecting water (a symbol of blessing) and pouring it on Buddhist statues, buildings, and senior monks.
This tradition evolved over the generations and nowadays, it has become a festival more for entertainment. Despite the change of style, the Buddhist value of respecting family members has not changed. Songkran is also a holiday for workers in cities to return to their hometown and meet their families. It is not just a crazy festival with people splashing water for fun.
Songkran has had a great impact on the Thai economy as well. In 2017, the overall tourist income expanded to more than 730 billion baht and is expected to grow even higher this year. Up to 500,000 foreigners visited Thailand last year during Songkran, which had a positive effect on the income of individuals and the government. However, Songkran is making life hard for police officers. In 2018, 3,724 road accidents caused 418 deaths and 3,897 injuries during Songkran. This is mainly due to too much excitement and drunk-driving.
You don't want to get in trouble on the holiday that you are supposed to be having fun on. If you want to have a safe and exciting Songkran, follow these manners and warnings.
Don't splash water at police officers, monks, or motorcycle drivers.
Be careful about sunburn- put on waterproof sunscreen
Keep your electronics and valuables separated from water.
Especially for women, wear clothes that you look okay even when you get wet.
Don't get angry for getting wet. Songkran is about dropping formalities.
Don't splash dirty or iced water.
Enjoy your holiday!