Times Up Now
Hang on for a minute...we're trying to find some more stories you might like.
1 out of 3 women ages 18 to 34 have been sexually harassed at work.
71% of those women did not report it.
It is time for change.
Time's Up Now is a movement against sexual harassment founded by Hollywood celebrities on January 1st, 2018. This is in response to the Weinstein effect and the #Metoo movement. In support of this movement, most of you may have noticed that all award shows have recently been swarmed with black dresses and tuxedos. And recently at the Brit Awards, all the stars were seen carrying white roses – a prominent and symbolic display to stand in solidarity for Time's Up. The protest was organised by music executives Meg Markins, of Roc Nation, and Karen Rait, of Interscope, Geffen and A&M Records. The two women stated, "we choose the white rose because historically it stands for hope, peace, sympathy and resistance. The world is listening. Wear a white rose."
While sexual harassment is an uncomfortable topic for most people to discuss, it is time for women to step up and empower each other. On the official Time's Up website is an open letter to the women of the world to stand in solidarity. The letter was signed by 400 acclaimed British and American women in the entertainment industry along with DMK cosmetics foundation. This is very encouraging for all women in every corner of the world to let them know that everyone is with you. It gives voices to those who are afraid to speak up and allows them to have their voices heard.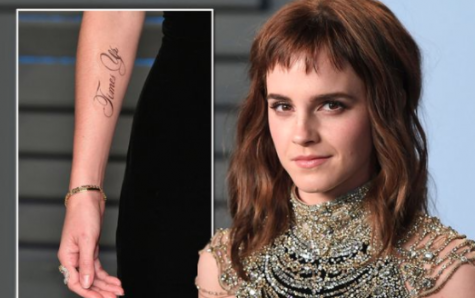 Men are also supporting this campaign. In early January of 2018, Mark Wahlberg and his agency donated more than 2 million dollars to the campaign for Mark Wahlberg's co-star Michelle Williams from All The Money in the World. This occurred after it was revealed that Michelle Williams received $800 for 10 days to redo certain scenes in the movie, while Wahlberg received $1.5 million for the same 10 days of work.
Sexual harassment news have been trickling in one by one in the news. Probably the most recent and shocking one is the sexual harassment allegation against the renowned doctor, Larry Nassar of the USA women's gymnastic Olympic team. Nassar's victims include the world's most famous athletes Simone Biles, Aly Raisman, and more than 250 other athletes. This scandal is now the biggest sexual harassment in sports history.
With the help of star power and all the women marches happening,  Time's Up allows women the confidence to step up and comfort their abusers. What better way to start this year than for 2018 to be the end to this problem once and for all.